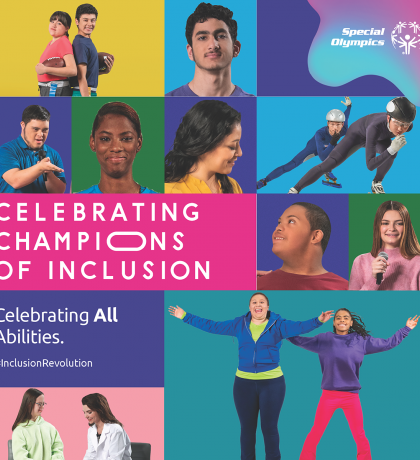 Too many Special Olympics athletes knew the pain of isolation and exclusion long before COVID-19. Canadians with intellectual disabilities are still too often left out – on playgrounds, from the workforce, from conversations. Together, we have the power to change this when we choose to include.
From July 20 to 26, the Special Olympics Global Week of Inclusion will celebrate the difference we can make when we #ChooseToInclude together. Special Olympics BC will inspire change by inviting everyone to join our joyful revolution for inclusion, which matters now more than ever, and honouring some of the many champions who always #ChooseToInclude and celebrate all abilities. Please click here for more information on Week of Inclusion activities.
"When I was growing up, I was bullied. I felt like I didn't know how to fit in. Special Olympics has helped me not give up, and go for my best," says Susan Wang, an accomplished Special Olympics BC athlete from Surrey and member of the SOBC Board of Directors. "I was going to quit school, but Special Olympics has inspired me to always keep going. I graduated from high school, and now I am studying early childhood education at Capilano University. In the coming years I will graduate and find work in a daycare, and I will try to qualify for the Special Olympics World Games again! Sport gives us determination, strength, and confidence to tackle obstacles."
Leading into the Special Olympics Week of Inclusion, Special Olympics BC announced this year's deserving winners of our five annual awards, honouring exceptional contributions and achievements of athletes and volunteers throughout the province. The 2020 winners are:
Special Olympics BC's in-person programs and events have been paused since March, following provincial health recommendations, and we are currently beginning a slow, phased return to sport. All details can be found on our Return to Sport landing page.
About Special Olympics BC
Special Olympics BC is dedicated to enriching the lives of individuals with intellectual disabilities through the power and joy of sport. In 55 communities around the province, we provide year-round training and competitive opportunities in 18 different sports to more than 5,200 athletes of all ages and abilities, thanks to the dedicated efforts of over 4,300 volunteers. To learn more, please visit www.specialolympics.bc.ca.