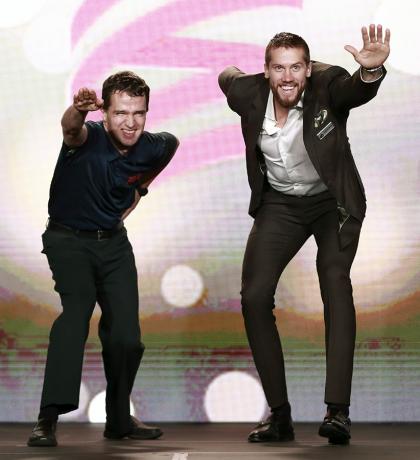 Fifty years of opening hearts and minds to the talents of individuals with intellectual disabilities. Fifty years of inspiration and excitement from Vancouver Canucks NHL hockey. Plus two decades of empowering support from the Sports Celebrities Festival presented by Wheaton Precious Metals. Equals one night to remember! 
The 2019 Sports Celebrities Festival was an inspiring celebration of the 50th anniversary of the global Special Olympics movement, and of the Vancouver Canucks' 50th NHL season. And it was an inspiring display of support for the work of the Canucks for Kids Fund and Special Olympics BC, changing lives through the power of sport.
Please click here for more photos
Fifty years ago, the world was a very different place for people with intellectual disabilities, who were excluded, forgotten, and left behind. Special Olympics has changed the game with its year-round sport programs and competitive opportunities. Special Olympics athletes build life-changing skills and open everyone's eyes to their abilities, showing that the world a better place when they are respected, accepted, and included. 
Fifty years ago, B.C. hockey fans of all ages began cheering for their Canucks in NHL action, living and breathing the Stanley Cup runs, generational lines and players, and unforgettable moments. 
It's been an incredible journey, and this was an incredible night to celebrate. Over the last two decades, the Sports Celebrities Festival has raised $5.5 million to benefit our two charities and change lives through the power of sport. Just as importantly, it has set an example of inclusion, respect, and empowerment. 
The audience gave a standing ovation to Special Olympics BC – Victoria athlete and SOBC 2018 Athletic Achievement Award winner Michael Langridge. Langridge served as this year's featured speaker alongside Vancouver Canucks forward Brandon Sutter, and eloquently shared the difference Special Olympics has made in his life. 
Before Special Olympics, Langridge experienced bullying, and felt like he couldn't succeed in sports. When he joined Special Olympics swimming, he found himself winning races. That was an amazing feeling he had never known before. Eighteen years later, he has become a World Games champion alpine skier, a valued teammate, and a friend to many. In Special Olympics, he is respected for being himself.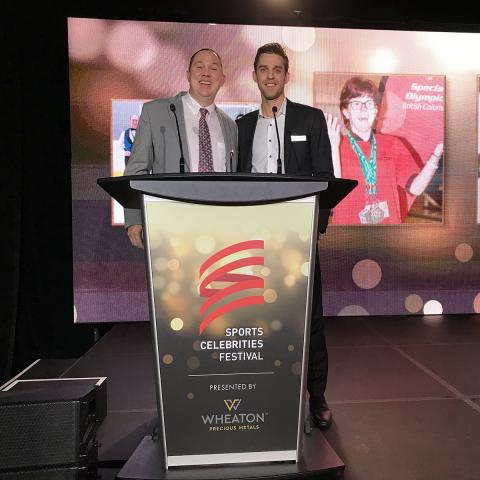 "I've been able to do more than I ever could have imagined, and being part of Special Olympics has made a huge difference in my life," Langridge says. 
"I want to thank you all for helping make this difference. When you step forward to show support for people like me, you set an example of respect and inclusion that can make our whole world a better place."
Sutter said that Langridge, like many of the other athletes in attendance at the SCF, is "an inspiration to myself, my teammates, and also his community."
Sutter's cousin Chris and close friend Mikey are former Special Olympics athletes, and Sutter eloquently shared the impact of Special Olympics.
"Through Chris and Mikey I have seen first-hand how important Special Olympics is. The friendships and social skills, the fitness and nutrition benefits, the confidence, inclusion, and excitement. These are just a few of the incredible benefits these athletes have access to," Sutter said.
Most sincere thanks go out to the generous Sports Celebrities Festival sponsors, partners, guests, celebrity athletes, and volunteers who make all of this possible. Presenting Sponsor Wheaton Precious Metals and Major Sponsors Canaccord Genuity, Macquarie Financial, and TD Bank Group make a difference with their significant support. They are backed by many longtime sponsors and donors who have changed lives through more than 10 years of supporting this event.
The Sports Celebrities Festival was fortunate to involve players and alumni from the Vancouver Canucks, BC Lions, Vancouver Whitecaps FC, and Vancouver Warriors, who inspired with their respectful presence alongside Special Olympics athletes. The whole Canucks roster generously makes the time to attend the Sports Celebrities Festival, and each Canucks player is paired with a Special Olympics athlete for the evening. SOBC – Whistler Valley athlete Taylor Mitchell, an alpine skier and member of the Team BC 2020 Training Squad, partnered with Elias Pettersson to host a table of sponsors and guests. Watch their popular entrance in the SCF parade of celebrities
"That was the best night of my life!" Mitchell said afterward.
This impactful event would not be possible without the inspiring efforts of the hardworking volunteer Sports Celebrities Festival organizing committee, and the event volunteers who were so positive and dedicated to making the evening a success. We are also thankful to the entertaining co-hosts of the evening, Special Olympics BC athlete and Director Susan Wang and Sportsnet 650 morning co-host Perry Solkowski.
Sincere thanks to all! 
Please click here to enjoy Facebook Live videos of the parade of celebrities and the speech by Michael Langridge.
Our Generous Sponsors

Presenting Sponsor

Bank Sponsor
Heads and Tails Sponsor

 
Photo Booth Sponsor
Wall of Wine Sponsor
SCF National Sponsor

Special thanks