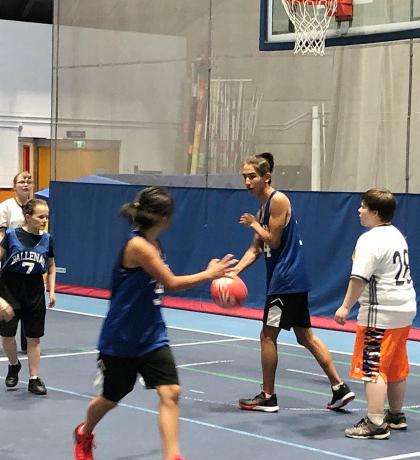 Student-athletes with intellectual disabilities have had amazing opportunities to develop and show skills this spring through growing Special Olympics school sport programs. Island athletes shone in the third annual SOBC Vancouver Island 3-on-3 Basketball Tournament, with the biggest number of teams yet, and then two teams of amazing Island athletes headed to Toronto to hit the court in the 2019 Special Olympics Ontario Invitational Youth Games. 
Huge cheers also go out to the track and field student-athletes who competed in BC School Sports Zone Championships across the province as well as the BC High School Track & Field Championships. This was the first year all zones included Special Olympics events, and the third year of Special Olympics athletes being part of the BC High School Championships. Sincere thanks to BC School Sports for their support of inclusive sport! And we send a big shoutout to the athletes who showed their skills in the Nanaimo-Ladysmith School District 68 Track Meet! 
The Vancouver Island 3-on-3 basketball programs have been growing strong over the last three years, creating opportunities for student-athletes with intellectual disabilities to experience the joy of participating in sports and being cheered on by their schools. By getting off the sidelines and into the thick of the action with these in-school programs supported by Special Olympics, the students feel the pride of becoming athletes themselves, build skills on and off the fields of play, and experience tons of fun and friendships.
Not only there value in participating in these programs during school, it opens eyes to the many empowering and fun opportunities with traditional Special Olympics programs in their community beyond school.
Weeks of training this year culminated in the SOBC Vancouver Island 3-on-3 Basketball Tournament, with nine terrific teams from Courtenay's Mark R. Isfeld Secondary and Georges P. Vanier Secondary, Parksville's Ballenas Secondary, Alberni District Secondary School, and Nanaimo's Dover Bay Secondary taking the court at Isfeld. 
Check out amazing coverage in the Comox Valley Record, including an article and video recap, and in the Parksville Qualicum Beach News.
"The majority of the team has been together the entire three years," Isfeld coach/lifeskills teacher Kari Bennett told the Comox Valley Record. "They've learned to play together, they've improved together, and they're really supportive of each other, which is the whole thing as far as I'm concerned."
The Record's Scott Stanfield wrote, "Practising and playing basketball has boosted the confidence level of Bennett's students. They've learned to play a game as a team, and learned to deal gracefully with winning and losing."
"Those are skills that they really have struggled with in different ways," Bennett said. "Over the three years, they've learned to accept what's going on in the court. They're encouraging of each other, so they're learning to support each other's skills. Honestly, it's so less about winning and losing. I don't think they even recognize it any more."
The student-athletes gain a sense of achievement and pride from not only their training and competing, but also from the response of their schools and peers – they are recognized as athletes and celebrated at their school athletic banquets. Isfeld students, for example, do an incredible job of supporting their fellow students who compete in the tournament – Isfeld students volunteer as scorekeepers, timers, and referees, and they come out to fill the stands and cheer on the action. 
Enjoy a selection of photos and footage from this year's SOBC Vancouver Island soccer and 3-on-3 basketball events: 
Many thanks to tournament organizer Randy James, SOBC – Comox Valley Local Coordinator and Isfeld Secondary Work Experience Program Coordinator, for all his efforts to make this empowering event possible! Sincere thanks also to all the school district staff members who coached and supported the programs, to all the students who volunteered and cheered at the tournament, and to all the families whose support and encouragement are so vital.
A few weeks after the amazing Island event, two teams of terrific athletes from Alberni District Secondary School (ADSS), Ballenas Secondary, and Dover Bay Secondary headed to Toronto to compete in the 2019 Special Olympics Ontario Invitational Youth Games alongside 2,000 student-athletes from all over Canada, the U.S., and the globe. Meet the team members and coaches
The BC Islanders starred Ballenas players Quinton Clothier and Jessica Rose teaming up with Dover Bay's Kyle Gallia, Arianna Phillips, and Michael Phillips, supported by Head Coach Amy Nowicki of Dover Bay and Ballenas coach Jessica Kerr.
The ADSS Armada featured athletes Myles Bernard, Ryan Golden, Brett Lehtonen, and Angelina Sankey, supported by Head Coach Dennine Guenther of ADSS and coach Wayne Bernard, SOBC – Port Alberni's basketball Head Coach.
The two closely matched teams ended up in the same division for competition, taking on three teams from Ontario schools. After two days of hard-fought action, the Islanders captured the silver medal and the Armada won bronze.
On the court, the Islanders worked well together and had hard-fought play from the dynamic Phillips siblings, the unique one-two punch of 6'8" Clothier and 5' Rose (whose team won the Vancouver Island tournament), and dedicated Gallia who trained for weeks despite a wrist injury in order to be ready to compete in the Vancouver Island tournament and the Youth Games.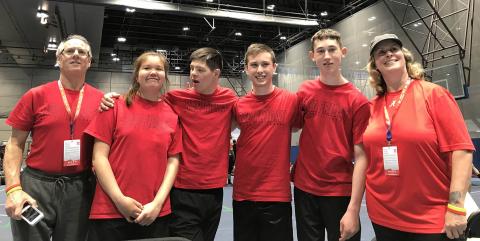 The Armada athletes worked really well as a team, and all members were integral to their success. Sankey had great layup shots scoring some key baskets, and was solid in all positions; Lehtonen was so quick on his feet that the other team had better not pause as he was on them; Bernard liked the long shots and nailed them regularly; and Golden was a solid leader who always was there for his teammates, supporting them and celebrating all that the team accomplished.
Arianna and Michael Phillips participate in Special Olympics BC – Nanaimo programs as well as school sports, and have achieved great success at regional, provincial, and national Special Olympics athletics and figure skating competitions. Arianna Phillips is also fresh off her stellar achievements at the 2019 Special Olympics World Summer Games. But the Youth Games marked the siblings' first time competing in basketball together, and that was a great highlight.
"We're very coordinated," Michael said. As Arianna described it, "We can talk without talking."
Michael and Arianna say travelling with Special Olympics has been a big highlight – Special Olympics has taken them to competitions and training all over the province, and as far away as Corner Brook, Newfoundland, for the 2016 Special Olympics Canada Winter Games – and for Arianna, all the way to Abu Dhabi and Dubai for the 2019 World Games.
"Special Olympics is definitely worth the time. It's given me the opportunity to travel all over the world," Arianna said. 
Off the court, all of the B.C. athletes showed great friendship and sportsmanship throughout the experience. The coaches were rightly very proud of their athletes.
Islanders Head Coach Nowicki said the experience was amazing and well organized. With 70 participating basketball teams, there were many new friendships formed and wonderful camaraderie. 
"The BC Islanders made lots of new friends from different provinces and states, and it was great having other teams cheer us on," Nowicki wrote in an email. "It was a wonderful opportunity traveling with both B.C. teams and staying together in the dorms. Friendships were formed over the week, and plans to get together again with all the B.C. players are in progress."
Islanders coach Kerr said the experience was "empowering, unforgettable, and exciting, with so many new opportunities."
"A personal highlight for me was seeing our athletes experience many new opportunities, such as flying on a plane, staying overnight in a hotel, receiving a medal, staying in university dorms, playing basketball against teams from all over the world on a university campus, and going to Toronto," Kerr wrote in an email. "Highlights for our students were the Opening Ceremony, playing lots of basketball, and making many new friendships with athletes from all over."
Kerr said the athletes showed significant improvements in both their basketball skills and life skills, including greater confidence and increased travel experience. 
"This will be a major highlight from our athletes' high school experience. This was also an opportunity for our students to get more involved with Special Olympics, in hopes that they continue playing after high school," Kerr wrote.
These student-athletes are being recognized for their SOBC school sports and Youth Games achievements in their schools' awards festivities, right alongside their student-athlete peers.
To find out how your school can benefit from offering SOBC school sport programs, please contact Jean Tetarenko, SOBC Competition & Youth Coordinator, by email or by phone at 250-883-2452 / 1-888-854-2276 toll-free.
Read more about SOBC school sport programs
Sincere thanks to the Government of Canada, the Government of British Columbia, Tim Hortons, the Samuel Family Foundation, The Slaight Family Foundation, and the GoodLife Kids Foundation for supporting SOBC's youth programs and opportunities throughout B.C.