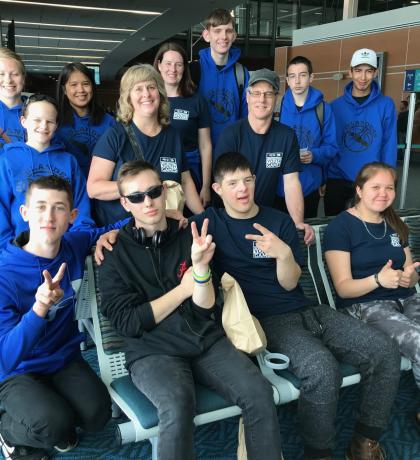 Special Olympics BC is thrilled to be sending two 3-on-3 basketball teams to compete in the 2019 Special Olympics Ontario Invitational Youth Games in Toronto from May 14 to 17. 
The Special Olympics Ontario Invitational Youth Games will bring together 2,000 student-athletes from all over Canada and the globe. The competitors, who are ages 13 to 21, will participate in five sports. 
The B.C. teams will hit the court in 3-on-3 basketball competition, representing their schools with pride. The ADSS Armada squad hails from Alberni District Secondary School, and the BC Islanders have members from Parksville's Ballenas Secondary and Nanaimo's Dover Bay Secondary. Click here to find their results in the Bucks division
The BC Islanders hotshots are Ballenas players Quinton Clothier and Jessica Rose teaming up with Dover Bay's Kyle Gallia, Arianna Phillips, and Michael Phillips, supported by Head Coach Amy Nowicki of Dover Bay and Ballenas coach Jessica Kerr.
The ADSS Armada boasts a roster of Myles Bernard, Ryan Golden, Brett Lehtonen, and Angelina Sankey, supported by Head Coach Dennine Guenther of ADSS and coach Wayne Bernard, SOBC – Port Alberni's basketball Head Coach who generously stepped forward to help the team in their Youth Games journey. 
These super schools have been offering SOBC school sport programs and opportunities for several years now, giving students with intellectual disabilities the chance to step off the sidelines and shine through sports with the support of fellow student-athletes and encouragement of their whole schools. The ADSS, Ballenas, and Dover Bay communities are very supportive of these dedicated student-athletes.
The athletes bound for the Youth Games have been participating in SOBC school sport programs for several years and played in the SOBC 3-on-3 basketball program this year. They trained for weeks to be ready to compete and show their skills in the culminating tournament on April 26 hosted by Mark R. Isfeld Secondary. Check out tournament photos and videos in the Comox Valley Record  
Dover Bay's Gallia was so committed that he practiced every week even though he had a cast on his right wrist! He didn't let that slow him down. The cast came off the day before the SOBC Vancouver Island 3-on-3 Basketball Tournament and he was able to compete and star with his team.
Ballenas athlete Clothier has said he's excited to be able to tell his fellow students he played school sports. Pulling on the school jersey and playing in front of a packed house allowed Clothier the opportunity to feel like he belonged.
"I felt like I was finally doing something for my school," Clothier said.  "I was so determined to play my best game that I just blocked the crowd out."
Read more from Clothier, Nowicki, and Kerr
Dover Bay students Arianna and Michael Phillips are siblings who also participate in traditional Special Olympics programs, and they have successfully competed at Provincial and National Games in athletics and figure skating. Arianna Phillips has also achieved a great deal in athletics at the world level, as she delivered personal-best performances in the 2019 Special Olympics World Summer Games. 
We're excited to cheer on the Armada and the Islanders in action at the Special Olympics Ontario Invitational Youth Games!  
To learn more about Special Olympics BC school sport programs, please contact Jean Tetarenko, SOBC Competition & Youth Coordinator, by email or by phone at 250-883-2452 / 1-888-854-2276 toll-free.