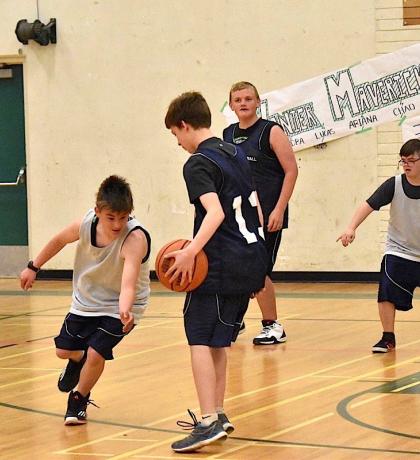 The sound of the basketball dribbling down the court, the squeak of shoes on the hardwoods, and the roar of the crowd as the ball circles the rim and falls through for two points has been a staple of high school sports in British Columbia for decades.
For the past two years, basketball has grown to include students who have found themselves on the sidelines. Now, the Special Olympics BC Vancouver Island 3-on-3 Basketball Tournament comes complete with packed stands, high-fives, and smiles brimming from ear-to-ear.
It also plays a critical role in providing students with intellectual disabilities to revel in the student-athlete experience. The pride of putting on your school's jersey creates a sense of inclusion that can help them carry forward as they transition out of school.  The 3-on-3 tournament has become a stepping stone for students with intellectual disabilities to help them stay physically active and build their confidence.
With a new season just around the corner, players and coaches are excited to build on the success the tournament by continuing to foster a culture of inclusion and respect within the school walls. 
Amy Nowicki, a Special Needs Community Youth Worker with Nanaimo Ladysmith School District and coach of the Dover Bay/Wellington team, said she wasn't sure what to expect before her team took to the court. It's one thing to practice in a gym, working on your skills, but once that whistle blows and it's game time, everything changes. 
"Everything passed my expectations," Nowicki said.
She said seeing posters lining the school halls, the stands packed to the brim, and school mascots running the sidelines gave her the sense that something had changed.
"The players were at a real tournament, competing for their school. The whole experience was fabulous."
Nowicki said there's one moment that will stick with her forever. One of her players was too nervous to take the court as the tournament got underway. But after she offered some reassurance along with the encouragement of her teammates, the athlete realized she not only had the skills but the confidence to play.
"The best moment with her during the tournament was when she scored the opening basket in the second game. Her smile and reaction were priceless and the confidence she gained that day was incredible," she said.
The inaugural tournament in 2017 featured five teams from Comox's G.P. Vanier and Mark R. Isfeld Secondary Schools as well as Nanaimo's Dover Bay and Wellington Secondary Schools.
By 2018 the demand had grown to include a pair of schools from the Alberni School District and Ballenas Secondary School, pushing the number of teams to eight.
The tournament has been a huge success, creating a larger social network for students, with intellectual disabilities and provide them with the opportunity to connect and build friendships outside of their usual circle of friends.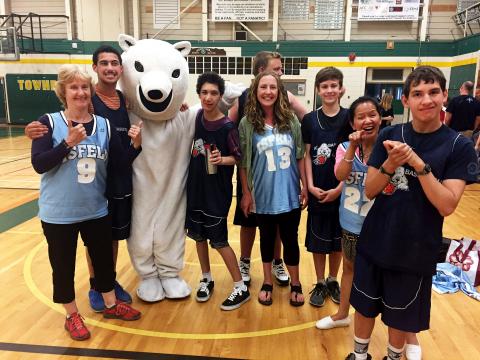 The success of the program has meant SOBC is hoping to expand the tournament, affording more schools to get involved and possibly hosting several dates of competitions. While the focus has been on Island Schools, a program in Kamloops is getting underway.
Jessica Kerr was the coach of one of the tournament's newest entries, the Ballenas Whalers. She can understand why it continues to grow.
"It was an awesome experience for students to get the opportunity to practice as a team, represent our school, and wear our school's athletics' attire," Kerr said. "Students loved getting team hoodies they could keep after the season was over. There's always so much pride in being able to represent your school."
It was a sentiment shared by Grade 12 athlete Quin Clothier. The Ballenas student said he was excited to be able to tell his fellow students he played school sports. Pulling on the school jersey and playing in front of a packed house allowed Clothier the opportunity to feel like he belonged.
"I felt like I was finally doing something for my school," Clothier said.  "I was so determined to play my best game that I just blocked the crowd out."
Kerr said the entire school was quick to embrace the team by including them in regular daily school announcements for practice times and games. She also said students were lining up to volunteer to help the team any way they could.
"Our athletes were so appreciative and keen to get involved," Kerr said. "I have players coming to me every week saying they are excited to start basketball again. It is an awesome opportunity for our students to get involved in extracurricular activities and reiterates how important these activities are to help build an inclusive, positive community within our school."
Clothier said any student with an intellectual disability should consider signing up and giving it a shot. 
"Even if they don't win a single game, they would have still tried and had lots of fun," he said.
It's a feeling that's catching on across the school districts. Nowicki said her team also couldn't wait to get back on the court. Shortly after the end of the 2018 tournament, players were already mapping out the start of next season. Everything from recruiting new players to bring back graduating teammates to help was open for discussion.