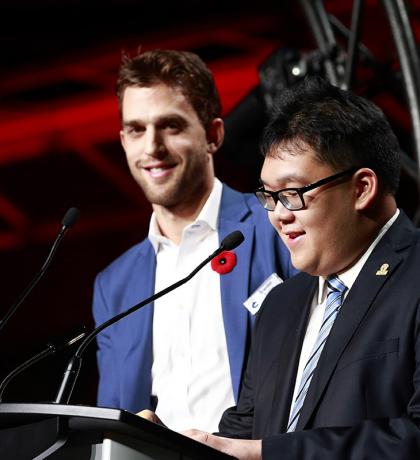 The 2017 Sports Celebrities Festival presented by Wheaton Precious Metals starred Special Olympics BC athletes centre stage alongside the entire Vancouver Canucks roster and leading B.C. sports celebrities, while raising vital funds for the Canucks for Kids Fund and SOBC.
Special Olympics BC – Vancouver athlete Alex Pang captivated the sold-out crowd as he shared the journey of his impressive development. As a child, Pang said, he had no words and found it difficult to interact with others, and also had low muscle tone and struggled with balance and walking in a straight line. After 10 years as a Special Olympics athlete, the 19-year-old Pang is now a three-time Special Olympics World Games competitor in both figure skating and basketball who feels like he can accomplish anything and has learned that he loves public speaking. Through his hard work in Special Olympics and throughout his life, he has become a successful athlete and gained confidence for his future.
"Through Special Olympics, I have found a place where I feel I belong, and where I know my strength will shine through and be celebrated. Because of Special Olympics, I have had a chance to receive world-class training to make me the best athlete I can be. Because of Special Olympics, I know I have multiple pathways in life that I can choose from and will succeed in whatever I choose to do," Pang said.
Held on November 2 at the Vancouver Convention Centre, the 19th annual gala brought together more than 650 supporters along with SOBC athletes, the whole Vancouver Canucks roster, and other top sports celebrities for a meaningful and fun evening. This inspiring and interactive event has raised more than $4.4 million for SOBC and the Canucks for Kids Fund.
Pang spoke alongside Vancouver Canucks SCF ambassador Brandon Sutter, who shared his personal perspective on the powerful impact of Special Olympics. Sutter's cousin Chris and close family friend Mikey are Special Olympics athletes.
"Through Christopher and Mikey, I've seen firsthand how important Special Olympics is to these athletes. The confidence and friendships that are built are so meaningful and last a lifetime. Now I'm lucky to add Alex to my list of friends and athletes who inspire me," Sutter said.
Pang's moving speech shared his appreciation of the outstanding coaching that he has experienced with Special Olympics as well as the growth of confidence and lessons of self-discovery.
"At every level of Special Olympics, I've felt like I truly belong. Everyone there – from the athletes to the coaches and the rest of the support team – accepts me for who I am. I really believe this is something everyone should experience in their lives. When I'm in Special Olympics, I feel like I can accomplish anything!" Pang said. "This feeling of belonging and confidence has allowed me to excel in many areas of my life. I've gained the confidence to go study at college and hopefully land a job that allows me to help others like myself. Special Olympics has given me the confidence to make what once seemed impossible, possible."
Watch Pang and Sutter's speeches:
Watch Pang and Sutter on Breakfast Television Vancouver
Read about this inspiring evening in The Province
The Sports Celebrities Festival is one of a small handful of required full-team events for the Vancouver Canucks, which is a powerful symbol of respect for Special Olympics athletes. It's a thrill to have the entire Canucks roster participating in the event, with each player paired with Special Olympics athletes for the evening.
"We're as excited as they are," Sutter said told Breakfast Television's Riaz Meghji.
The event's roster of celebrities also included legendary Canucks alumni Dave Babych, Jyrki Lumme, and Kirk McLean as well as coaches and management, BC Lions Manny Arceneaux, Solomon Elimimian, Marco Iannuzzi, and Craig Roh, and Canada Soccer Women's National Soccer Team captain Christine Sinclair and coach John Herdman who participated in an inspiring panel discussion about the power of sport and all things women's soccer in Canada.
The event also featured Sportsnet650 Starting Lineup host James Cybulski teaming up with SOBC – Langley athlete Christian Burton to serve as the engaging Masters of Ceremonies, plus appearances by Canucks broadcaster John Shorthouse and Canadian comedy icon Brent Butt.
The backing of the Canucks and all the participating celebrities sends a strong message of inclusion and dignity for individuals with intellectual disabilities. The generosity and kindness from all of the event's celebrities, sponsors, and participants is truly inspiring. 
Another highlight of the evening was the moving speech by Tina Chiao speaking about her son Andrew's empowering experiences with the Canucks Autism Network.
We thank all of the Sports Celebrities Festival sponsors, attendees, and supporters who give so generously each year. Our heartfelt gratitude goes to the SCF sponsors:
Presenting Sponsor Wheaton Precious Metals;
Major Sponsors Canaccord Genuity and Macquarie Financial;
Event Sponsors Capilano Suspension Bridge Park, Home Hardware, J. Lohr Vineyards & Wines, Palladio Jewellers, Strathcona Beer Company, TD Bank Group, and Wheaton Precious Metals; and
Media Sponsors Postmedia Network Inc. and Sportsnet.
And special thanks to the Vancouver Canucks!
More coverage: