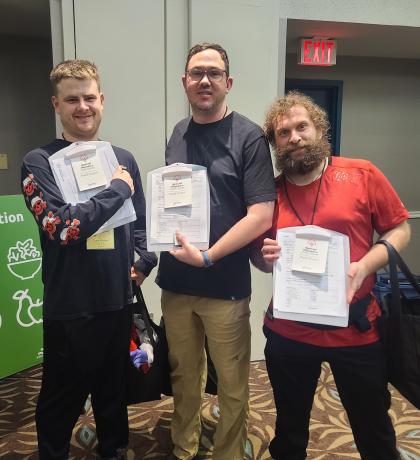 Special Olympics BC's health programs are making a difference in the 2022-23 sport season, helping create #InclusiveHealth for athletes with intellectual disabilities across B.C.!
At the 2023 SOBC Winter Games presented by Prospera Credit Union, SOBC hosted Healthy Athletes screenings with a welcoming and fun environment where athletes and volunteers could discuss health topics and draw out issues. The 257 Healthy Hearing, Health Promotion, and Special Smiles screenings shared helpful health information and resources, and uncovered issues that led to important referrals for follow up care.
One athlete had a dental fracture that needed an urgent dental followup. Through the Special Smiles screening, dedicated volunteer health professionals referred them to receive the proper care they needed.
Another athlete was known for speaking quite loudly and has been often reminded to use their "inside voice." The Healthy Hearing screening at Provincial Games revealed that the athlete had too much earwax, which impacted their level of hearing. They were referred to get the care they need to help their hearing and health! 
These stories from Healthy Athletes screenings are examples of the impact of SOBC's health programs, addressing systemic issues that affect the quality of life of people with intellectual disabilities. 
Too often, they are forgotten and left behind by the health system, as they experience worse health care and access to services than others in their communities. SOBC's year-round health programs seek to break down barriers in health care and empower athletes with active living opportunities and advocacy training.
GET INVOLVED WITH HEALTHY ATHLETES
Club Fit programs in action
Club Fit programs are an important part of SOBC's year-round health initiatives. SOBC communities around the province offer Club Fit to help athletes improve their overall health and fitness outside of other Special Olympics programs, and lead a healthy and balanced lifestyle.
SOBC – Vernon's Club Fit program has been an outstanding example of the high-quality impact the program has on SOBC athletes. After a couple of years of adjusted programming due to the pandemic, this season athletes are pumped to be back at in-person sessions and reconnect with their friends!
This season was the first time many of the athletes learned specific physical activities, such as wall sits or balancing when stepping over a hurdle. Throughout the season, athletes saw much improvement in their abilities, accompanied by the excitement and encouragement of their teammates and coaches!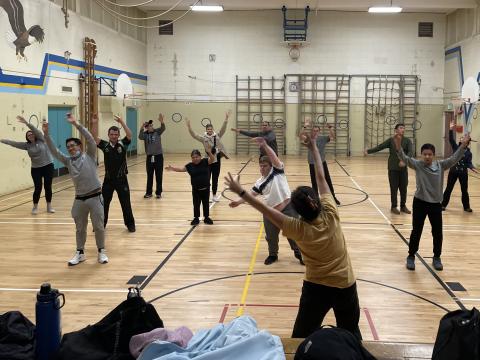 "What I love about coaching Club Fit is seeing so many personal wins, and the joy and excitement that comes with it," said SOBC – Vernon Club Fit coach Sydney Feeney.
Improving physical health and achieving personal bests ultimately help athletes to succeed in their current sports, join other sports that they may have not previously considered, and improve their overall quality of life.
"One of our athletes had trouble squatting for a few seasons. As they continued to work hard on it, we finished the season with a well-formed, unassisted squat. They knew this would be a foundation for many more movements and to help build muscles to hit their sport-specific goals," Feeney said. 
While SOBC – Vernon's Club Fit sessions were very heavily based on physical workouts, they also emphasized and discussed healthy nutrition. At the end of every practice, the athletes shared the different fruits and vegetables they had that day, sparking helpful discussions on nutrition.
Overall, SOBC – Vernon's Club Fit program was a huge success, and Feeney was very proud of all the athletes for their determined efforts.
"There is so much confidence and progress made with everyone. Everyone had different personal goals for the year – many excelled more than they thought they could!"
PARTICIPATE AND VOLUNTEER WITH CLUB FIT
Athletes and volunteers leading the way for #InclusiveHealth
The success of SOBC's empowering health programs would not be made possible without the help of the many dedicated volunteers. For dental hygienist and educator Carol Yakiwchuk, a longtime SOBC Special Smiles Clinical Director, it is the joy of the athletes that makes volunteering with Special Olympics so rewarding.
"Working with Special Olympics athletes is wonderful. I love being there to support these athletes as they strive for their personal best and their smiles make it all worth the work," she said.
SOBC athletes are also committed to promoting #InclusiveHealth by becoming Health Messengers. The Health Messenger program is part of Special Olympics' vision of inclusive health, empowering them to serve as health and wellness leaders within our programs and communities.
Special Olympics BC – Creston's Claire Lemaire is an enthusiastic Health Messenger in her community, as she has given Health Messenger presentations at her Local's programs, sharing valuable information about health, such as ways to stay active during the winter season and talking about the benefits of hydration.
Find helpful training tips by Health Messengers
There are many life-changing opportunities to get involved with SOBC's year-round health programs! Click here to learn more and get involved with SO health.
We are so grateful to the Government of British Columbia and the Government of Canada for their ongoing support of our health programs!
Together, let's continue to create opportunities for people with intellectual disabilities to be healthy as everyone else. Everyone can help build #InclusiveHealth!
LEARN AND ADVOCATE WITH HEALTH MESSENGERS