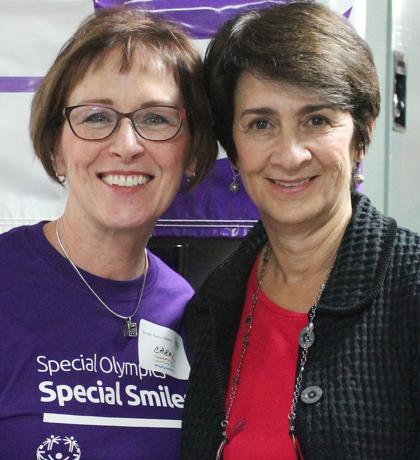 Special Olympics Canada is fortunate to have many healthcare professionals and leaders in the space as dedicated volunteers helping to develop, deliver and champion our Healthy Athletes® programs.
One of those dedicated volunteers is dental hygienist and educator, Carol Yakiwchuk. Carol is an active advocate for inclusive health, helping change the game in oral health for individuals with intellectual disabilities.
Carol has been a Special Olympics Healthy Athletes Special Smiles Clinical Director since 2009 when she attended the Special Olympics World Winter Games in Idaho to conduct oral screenings for athletes with intellectual disabilities from around the globe. She recalls several memories from those Games that still move her to this day.
"This lovely figure skater came through our screening and when she opened her mouth, I was shocked to see her molars had completely decayed, all the way to the gum. She was clearly in pain and had been for some time – she was also competing the next day. We worked fast to connect her with care and get her fixed up. The next day, she won a gold medal. It brought tears to all our eyes. That same Games, another athlete came up to me to tell me that he wouldn't be here without Special Smiles, because they had found oral cancer during his screening years before. Those are the stories that keep me going."
Throughout her involvement with Special Olympics, Carol has given screenings to hundreds of athletes, raised awareness among her peers and even led the creation of Lifelong Smiles for Individuals with Intellectual Disabilities – a free course for oral health professionals and students to help ensure that practitioners in the field are equipped to help patients of all backgrounds and abilities. In 2016, she became Canada's first winner of the Golisano Health Leadership Award, in recognition of her dedicated volunteer efforts to help combat the significant health disparities faced by individuals with intellectual disabilities.
Despite her many accolades, Carol says the best reward is seeing the smiles of her patients.
"Working with Special Olympics athletes is wonderful," she shares. "We get a chance to talk to them, to teach them about proper oral self-care and, in some cases, provide them with dental treatment that they would not ordinarily be able to receive. From a more global perspective, we are also able to assess this population's oral health status and evaluate the need for further advocacy based on results of the statistical analysis of information collected. I love being there to support these athletes as they strive for their personal best and their smiles make it all worth the work."
More than just sport, Special Olympics provides life-changing health programs
The Healthy Athletes® initiative is dedicated to providing health services and education to Special Olympics athletes, and changing the way health systems interact with people with intellectual disabilities. Through free health screenings, training for healthcare professionals, and evaluation of the health status of people with an intellectual disability, Healthy Athletes is having a large impact across the country in communities from coast to coast.