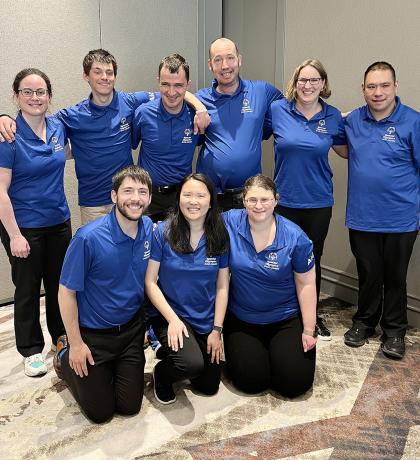 Special Olympics BC Athlete Leadership programs help athletes build skills and confidence to become leaders, mentors, and advocates in their communities and throughout our movement. They take on a range of leadership roles including public speaking, participating on Local Committees and Athlete Input Councils, and assisting as fundraising and program volunteers. 
New athletes and volunteers are always welcome to get involved with SOBC Athlete Leadership!
Join the SOBC Athlete Leadership Academy
In order to help athletes get the most out of their courses, and to inspire and recognize ongoing commitment and achievements, Special Olympics BC now offers our Athlete Leadership Academy! The SOBC Athlete Leadership Academy includes and links all of the courses that SOBC has traditionally offered, and will add new opportunities as determined by athlete interest. 
In the Athlete Leadership Academy, athletes are invited to register for a specific stream that matches their interests. After completing the required number of courses in their stream, athletes will be recognized as program graduates and will receive an Academy diploma and swag!
To get involved in upcoming courses, please fill out the SOBC Athlete Leadership Academy membership commitment form to express your interest. Courses are being planned based on what athlete leaders say they want to take! 
Click here to read all about it and complete the membership commitment form 
Congrats to recent course graduates!
At the 2022 SOBC Athlete Leadership Conference, dedicated athlete leaders and volunteers completed SOBC's Athlete Speakers Bureau 2 public speaking training and the SOBC anti-bullying course, while the SOBC Athlete Input Council and fellow athlete leaders completed governance workshops to help them share perspective and guide Special Olympics in our province. 
Congratulations also go out to the athlete leaders in Trail, Castlegar, and Victoria who completed Athlete Input Council training in spring 2022, building their skills to help inform and guide Special Olympics in their communities and Regions! 
We sincerely congratulate these athlete leaders on their accomplishments. And heartfelt thanks to all the volunteer facilitators and mentors, as well as the valued sponsors who make SOBC Athlete Leadership opportunities possible, including the Government of Canada and the Coca-Cola Foundation.
Click the links below to watch the inspiring speeches by Athlete Speakers Bureau 2 graduates!
"Special Olympics is something very positive in my life for many reasons. I have gained new friends, the travel opportunities, the support and awareness, and the opportunity to try new sports and gain more confidence." 
-Christopher Lakusta
SOBC Athlete Input Council news
The Special Olympics BC Athlete Input Council members have been hard at work providing important feedback from around the province on key Special Olympics issues, and supporting initiatives that raise funds and awareness for Special Olympics.
In spring 2022, the provincial Athlete Input Council gave important feedback on the SOBC Spirit of Sport Award selection process. After giving feedback, they used a blind selection process (showing no names on any nominations) to choose the 2022 SOBC Spirit of Sport Award winner.
The provincial Athlete Input Council has representatives from each Region around the province. They advise the SOBC Leadership Council and all of SOBC. They have Terms of Reference that guide how the Athlete Input Council works and how athletes can get involved. Please click here to read their Terms of Reference.
Please click here to read about recent new roles for Athlete Input Council members Matthew Williams and Susan Wang.
Through his participation in Special Olympics Athlete Leadership opportunities, "people respect me, and my confidence has gone way up," says athlete Chris Harrington, Athlete Representative on the SOBC – Kelowna Local Committee and Region 2 Representative on the SOBC Athlete Input Council. 
SOBC Athlete Reporter stories
Special Olympics BC Athlete Reporters continue to capture stories from all over the province! Athlete Reporters Miranda Orth, David Johnston, Jake Miller, and Roy Stephens have been covering SOBC's exciting return to in-person sport programs and competitions.
Click here to read Athlete Reporter coverage
Learn more