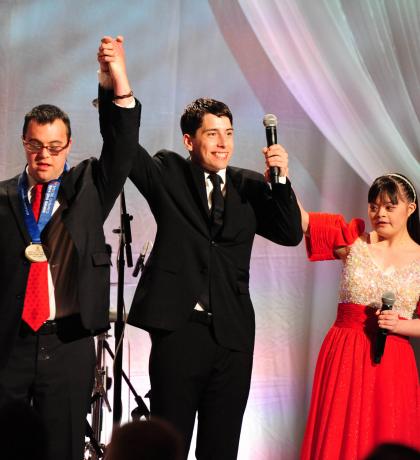 Special Olympics BC is deeply grateful to the valued volunteers and athletes who generously give their time, skills, and heart to help lead this life-changing movement in our province. Here are fall 2022 updates about SOBC's leadership groups!
SOBC Board of Directors
Special Olympics BC's Board of Directors provides vital guidance for our organization and movement, and SOBC benefits significantly from the efforts of these valued volunteers. 
At the 2022 SOBC Annual General Meeting on September 20, the Board of Directors re-elected the dedicated Executive Committee:
Chair Randy Smallwood, Wheaton Precious Metals President & CEO 
Vice Chair Colin Yakashiro, Grant Thornton Partner
Past Chair Ted Hirst, Canaccord Genuity Managing Director, Investment Banking - Global Head of Resources
Secretary Michael Campbell, MoneyTalks Host and Publisher
Treasurer Ryan Hoag, MNP Regional Managing Partner, Lower Mainland
At the 2022 AGM, the Board also welcomed three new Directors: 
Jen Hansen, Cassels Partner
Leslie Stevens, BC Law Enforcement Torch Run Provincial Director, Port Moody Police Department Deputy Chief Constable
Matthew Williams, SOBC Athlete Input Council Chair
Williams has competed at the World Games level in speed skating and basketball, and he earned recognition as Special Olympics Canada Athlete of the Year in 2020. Currently, he participates in golf and swimming. 
Williams has excelled in Athlete Leadership programs and roles. He is the current Chair of the SOBC Athlete Input Council. Previously he served on the Special Olympics International Board of Directors and as Chair of the Global Athlete Congress. Williams is a sought-after speaker who has shared his story and advocated Special Olympics at everything from the White House to a private meeting with Warren Buffett. In November 2015, he delivered a TEDxVancouver talk that was chosen to be posted to the main TED.com website, where it has earned more than 1.2 million views to date.
The SOBC Leadership Council recommended Williams to the Board. He will serve a two-year term as a Director and on the Leadership Council.
Accomplished SOBC – Campbell River athlete Ashley Adie completed her two-year term on the Board at the 2022 AGM. Adie has been a diligent Director, and a very valued voice sharing athlete perspectives. Adie is also an articulate speaker and advocate for Special Olympics in media opportunities and events. She works hard to spread the word on social media and help fellow athletes feel connected and supported. Adie remains the hardworking Region 6 Representative on the SOBC Athlete Input Council. 
New Director Jen Hansen is a valued volunteer on the organizing committee for the Sports Celebrities Festival presented by Wheaton Precious Metals, making a difference for Special Olympics BC and the Canucks for Kids Fund. Cassels is a generous sponsor of multiple SOBC fundraising events. Hansen is an experienced and dedicated partner in the Securities Group at Cassels, serving as Co-Chair of the Mining Group and as a member of the firm's Executive Committee. Her professional practice focuses on mergers and acquisitions and corporate finance.
New Director Leslie Stevens is the Port Moody Police Department Deputy Chief Constable. She has an extensive relationship with Special Olympics BC through the Law Enforcement Torch Run, and she was recently elected as the BC LETR Provincial Director. Before joining the Port Moody Police in 2020, Stevens had a long and successful career with the Vancouver Police Department, and in 2018 she was seconded to the Criminal Intelligence Service of B.C. and the Yukon as Bureau Director. She also has experience in sport, economics, and banking.
SOBC sincerely thanks our dedicated re-elected Directors:
Brent Bergeron, Pan American Silver Corp. Senior Vice President, Corporate Affairs & Sustainability 
Donna Bilous, SOBC Leadership Council Chair
Grenville Finch-Noyes, Gallagher Senior V.P. Risk Management and Consulting, BC Region
Pamela Keith, Dueck Auto Group Co-owner and SOBC Hall of Fame member
Nicola Lambrechts, NLK Strategies Founder and President
At the AGM, Richard Lucy, a longtime champion of Special Olympics and the Law Enforcement Torch Run, stepped down from the Board after 15 years as a Director and 30 years of involvement with the movement. Lucy made a difference with his compassionate, insightful leadership while serving Special Olympics BC athletes in a wide range of roles, including stints on the 2009 SOBC Games Organizing Committee and Special Olympics provincial and national team mission staff, and his years of positive leadership with the LETR. Lucy is a deserving member of the SOBC Hall of Fame as a Provincial Builder. Devinder Gill also stepped down from the Board after three years of involvement. We are grateful for the time, consideration, and care she gave to the movement.
Sincere thanks to all of the valued Directors, past and present, who have contributed so much time and heart to support Special Olympics BC's athletes and mission. 
SOBC Leadership Council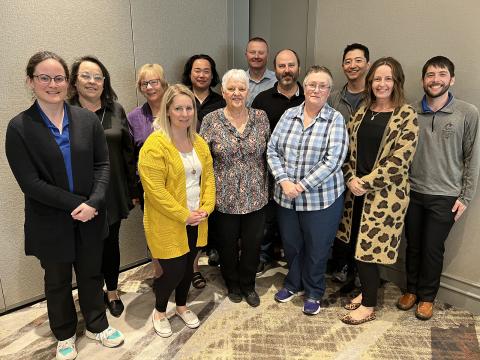 In spring 2022, the SOBC Leadership Council welcomed new Region 8 Coordinator Alexandra Orser, and honoured retiring members Tracy Hunter Heartt and Karen Theriault.
Special Olympics BC's Leadership Council provides vital guidance for our organization and movement, and SOBC benefits significantly from the efforts of these valued volunteers.
Comprised of the Regional Coordinators representing the eight SOBC Regions and respected leaders in the SOBC sport world, the council serves as the link between community and regional programs and the Board of Directors of Special Olympics BC. This group is vital in crafting SOBC sport program development, strategic plans, policies, and resources.
Orser brings important experience to the Region 8 role, having served as the hardworking SOBC – Prince George Local Coordinator and as a multi-sport coach. Professionally, Orser is a nurse who has lived in Prince George since 2011, and she has a young family. Orser brings her valuable perspectives and inspiring dedication to the Leadership Council.
Hunter Heartt resigned from the Region 8 role after more than 25 years of inspiring service to Special Olympics in her community and Region and throughout our province. Hunter Heartt served on many provincial and national Special Olympics teams, and worked hard throughout her tenure to advocate and support the most and best possible opportunities for Special Olympics athletes all over her Region and province. Please click here to read her perspective as a Team BC 2020 mission staff member. 
Theriault resigned as Region 4 Coordinator after more than 25 years of dedicated volunteer leadership with Special Olympics in her community and far beyond. Theriault, the 2013 winner of the SOBC President's Award, was a longtime and highly effective Local Coordinator in Surrey before moving to Delta. SOBC is fortunate that she then transitioned into the Region 4 Coordinator position, where she applied her customary diligence and insights to support her Region and elevate Special Olympics throughout our province. Theriault is also the proud parent of SOBC Hall of Fame athlete Marc Theriault, a legendary figure skater and multi-sport athlete who has represented B.C. and Canada with pride and skill in countless competitions.  
Special Olympics BC sincerely thanks all the hardworking and inspiring members of the Leadership Council. Currently there are two open positions: Region 2 Coordinator and Region 4 Coordinator. To find out more about the ways to make a difference in these rewarding roles, please contact Leadership Council Chair Donna Bilous or your Region's Community Development Coordinator.  
SOBC athlete Susan Wang in national roles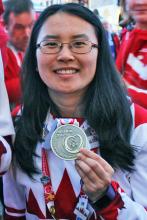 Susan Wang is a dedicated member of the SOBC Athlete Input Council representing Region 3. Wang is also an SOBC – Surrey athlete in swimming, Club Fit, alpine skiing, and track and field. She medalled in the 2017 Special Olympics World Winter Games for alpine skiing. Wang was a valued member of the SOBC Board of Directors from 2018 to 2020. Now she is taking on new national leadership roles!
In September 2022, Wang took on the role of Canadian Athlete Leadership Council Chair, and also stepped on to the Special Olympics Canada Board of Directors. Our movement in Canada is fortunate to have her helping lead the way and share athlete perspectives.
"Special Olympics has definitely changed my life. I wouldn't be where I am today without Special Olympics. One of the most important things is the leadership opportunities. It has given me so much confidence to do everything," Wang says. "My goal is to inspire others and to help athletes become the best they can be."
SOBC Leadership Summit 2022
In September, Local Coordinators and Local Committee members from around the province came together for the first in-person SOBC Leadership Summit in four years. These volunteers are essential to the operation of year-round Special Olympics programs and events. The summit was an opportunity to thank them for all they do, connect with each other, and share support to rebuild programs and reignite our movement.
Special Olympics BC's volunteers are the very best and they are truly inspiring. A big thank you to all who made time to be part of the Summit, and who work so hard to make SOBC programs possible!
Learn more 
We are so grateful to all of these caring volunteer leaders who generously share so much expertise and passion. They are so genuinely committed to ensuring the best for Special Olympics BC athletes, volunteers, families, and supporters.
The next time you see one of the volunteer leaders who make Special Olympics possible, please give them a huge thank you! They work so hard behind the scenes and deserve so many thanks.
make a difference as an SOBC volunteer