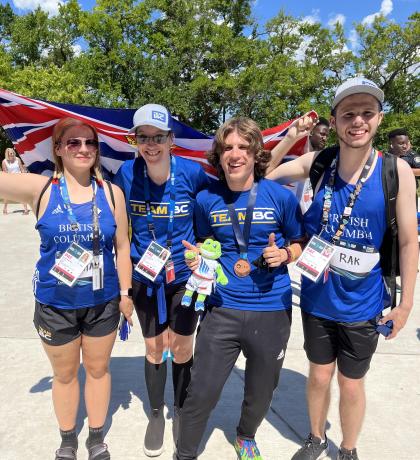 This August, Special Olympics BC athletes showcased their abilities at the Niagara 2022 Canada Summer Games! 
Canada Games are separate from Special Olympics Canada Games. The prestigious sport event gives SOBC athletes chance to shine in front of their peers from other sport groups, and gain experience at major competitions. Special Olympics athletes compete in their own sport divisions, and they give their all as members of provincial teams alongside top young athletes from a range of sports, sharing great team spirit all together.
SOBC sent eight dedicated athletes to join Team BC for the 2022 Canada Summer Games, with four each from athletics and swimming, supported by two outstanding SOBC coaches. 
2022 Canada Games - SOBC SWIMMING team
Hailey Borowski, Gibsons
Justin King, Mission
Bonnie-Jean Shade, Campbell River
Ramon Siytangco, Vancouver
Coach: Aaron Leontowich, Kamloops
Participant Assistant: Michelle Cruickshank, Nanaimo
Swimming events schedule and results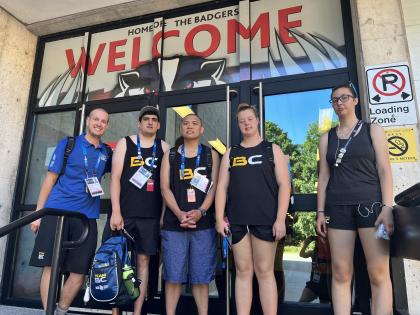 2022 Canada Games - SOBC ATHLETICS Team
April Armstrong, Burnaby
Olivia Neuman, Surrey
Thomas Rak, Surrey
Jesse Thibeault, Surrey
Coach: Tom Norton, Abbotsford
Participant Assistant: Ailey Jarvis, Vancouver
Athletics event schedule and results
Watch Canada Games livestreams & recordings
The coaches were very proud of each athlete's performance.
"Every one of those athletes performed so well. … They either had a seasonal-best time in both of their events, or personal-best times, which to me … is a gold-medal performance," said Tom Norton,  longtime athletics coach from SOBC – Abbotsford.
The Canada Games experience is remarkable because Special Olympics athletes showcase their skills in front of other sports peers, promoting a sense of inclusion and community. 
"An athlete is an athlete is an athlete," Norton emphasized. 
From doing warmups to having meals, all Team BC members did everything together.
"One of my goals at these Games is to support and encourage inclusion on both sides. … From the first day of training, our swimmers were welcomed to the BC swim team with a ceremony on the pool deck," said Aaron Leontowich, dedicated swimming coach from SOBC – Kamloops.
As SOBC athletes were cheering on their teammates at the Canada Games, they recognized their high work ethic and competitive fire. This inspired them to raise their own bar of athletic standards. The athletes have embraced this challenge.
"I feel very proud when they show the ability to deal with defeat in a sportsmanlike way, knowing they tried as hard as they could," Leontowich said. "The ability to deal with those situations is an incredibly valuable life skill that will last longer than a best time or medal."
A huge congratulations to the athletes who represented our community with pride at the Canada Games! We see and applaud your hard work and dedication. Another big thank you to the coaches and volunteers who inspire and motivate their athletes to perform at their best!
Special Olympics BC athletes also showed their skills in the 2022 BC Summer Games. Please click here to read the recap of their highlights!