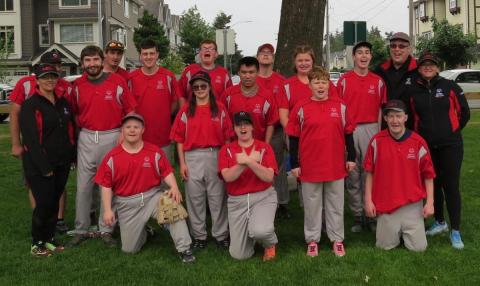 Abbotsford has a C and B Floor Hockey teams and would love to have some fun scrimmages for the athletes to hone their skills!!!
Please contact the Assistant Coach, Kim, if you would like to attend   Her email is :
The dates and times are as follows: 
December 5, 6 to 8:30 pm

January 16, 6 to 8:30 pm

February 13, 6 to 8:30 pm
We will also be hosting a two-day tournament on January 26 & 27 and are looking for teams and referees to be able to make this possible. 
Special Olympics BC – Abbotsford has more than 120 athletes participating in 16 sport programs and more than 100 volunteers and coaches running the year-round programs.
Each week athletes train in cardio fitness, strength training, and skill development. Check out the SOBC – Abbotsford website to learn about the sport programs we offer.
If you would like to register as an athlete please contact:
Desirée Morhart
Registration Coordinator
registrarsobcabbotsford@gmail.com
To volunteer please contact:
Kim Andrews
Volunteer Coordinator
volunteersobcabbotsford@gmail.com
For all other inquiries, please contact:
Cindy Suffel-Marchbank
Local Coordinator
localsobcabbotsford@gmail.com
For more information. please look under "Upcoming Events" on www.sobcabbotsford.ca
To donate directly to SOBC – Abbotsford click on the button below.