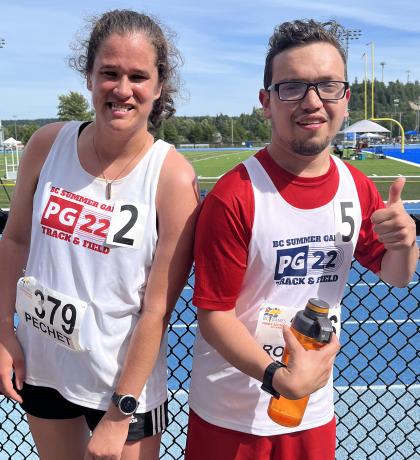 This summer, Special Olympics BC athletes had the wonderful opportunity to compete and show their skills at the 2022 BC Summer Games in Prince George and the 2022 Canada Summer Games in Niagara! (Story last updated Sept 6, 2022)
BC and Canada Games are separate from Special Olympics BC Games and Special Olympics Canada Games. They give SOBC athletes chance to shine in front of their sport peers, and gain experience at major competitions. Special Olympics athletes compete in their own sport divisions, and they give their all as members of provincial and regional teams alongside fellow athletes, sharing great team spirit all together. 
In the external BC Games, SOBC athletes have been competing and showing their abilities for 20 years. From July 21 to 24, 29 terrific Special Olympics BC athletes competed with pride in the 2022 BC Summer Games swimming and track and field events in Prince George. They were outstanding ambassadors for Special Olympics BC and for their sports, regions, and hometowns!
Find full results on the BC Games website
Find the full SOBC delegation list below!
Many of the athletes said they were so pleased to meet new friends, cheer for and be cheered on by others, and challenge themselves in the competitive setting.
"My most memorable experience was meeting awesome athletes and competing against the very best competitors," SOBC – Vernon athletics athlete Danielle Pechet said.
SOBC – Nanaimo athlete Sash Barbour said, "The best thing was to be with my family, my Special O family, and all of the BC Games!"
"The swimming was excellent," SOBC – Burnaby swimmer Nicholas Hui said. "We have received positive feedback of our swimming skills and there is always room for improvement!"
"I enjoyed the fact that we got to be in a competitive setting in an actual competition. It was my first time winning actual medals and I really enjoyed that," SOBC – Abbotsford's Adam Friesen said.
A special Happy Birthday shoutout to hometown athlete Spencer Rourke of SOBC – Prince George, who competed in athletics and celebrated his birthday during BC Games!
Peter De Marchi, Head Coach for the Special Olympics BC track and field contingent, said the athletes all came to the Games "engaged and prepared to compete to the best of their abilities," and also showed exemplary sportsmanship off the track.
The athletes "all performed fantastic on the track, with everyone improving on seeded times/distances," De Marchi said. He told the athletes, "Those improvements speak to your dedication and willingness to put forward your best effort at each and every training session. Based on your behaviour on and off the track, coaches and athletes from other groups could tell how dedicated you are to your sport."
The SOBC swimming coaches were equally impressed by the athletes.
"The athletes on the team were kind, respectful and kept me laughing with their jokes," said Head Coach Megan Owens of SOBC – Chilliwack. "I am so proud of all of their accomplishments during the competition. I have made memories and friendships that will last forever."
"I've loved the camaraderie and sportsmanship not only from our own athletes but also the other swimmers at BC Games," said coach Wilson Wong of SOBC – Vancouver. "To say I'm proud of our athletes would be an understatement, and they have all taken this opportunity and seized it. Big congratulations to the entire team and I will miss all the laughs and the lack of sleep!"
"Congratulations to all of the athletes! The BC Summer Games have been a great opportunity for the athletes to push their limits and form new connections," said coach Eric Valihrach of SOBC – Abbotsford. "Even with minimal sleep, everyone was able to perform and put in 110 per cent effort. Athletes, if you're reading this, I am extremely proud of everyone and hope to see you at some future competitions!"
In many competitions and sport circles, Special Olympics BC athletes and volunteers are known for leading the way with their positive attitudes and dedication, and the 2022 BC Games crew continued that high standard. As De Marchi noted, when a call went out to all BC Games athletes and volunteers to help move 300 mattresses out of schools, the Special Olympics BC athletes and coaches happily jumped into action to help out and led the way with their example of pitching in, tired though they were from their efforts in competing and supporting each other and all fellow athletes.
The 10 SOBC coaches and support volunteers from around the province were as outstanding as their athletes. With their caring, positivity, and constant dedication, they created an empowering environment to help the SOBC athletes shine on this exciting competitive stage.
Special Olympics BC is very proud of all the athletes and coaches from around the province who represented our community so very well at the 2022 BC Games! Thank you for showcasing the amazing abilities and inspiring example of Special Olympics athletes and coaches!
Special Olympics athletes in 2022 BC Games media coverage:
SOBC roster for 2022 BC Summer Games
| | | |
| --- | --- | --- |
| ATHLETICS |   |   |
| Athletes |   |   |
| First Name | Last Name | City |
| Andrea | Forbes | Smithers |
| Natasha | Phillips | Nanaimo |
| Sandra | Malku | Richmond  |
| Hillary | Birkett | Surrey |
| Hailey | Willie | Nanaimo |
| Danielle | Pechet | Vernon |
| Matthew | Hender | Quesnel |
| Chad | Harder | Quesnel |
| Torben | Schuffert | Smithers |
| Zack  | Thibeault | Surrey |
| Maxtin  | Lengyel | Ucluelet |
| Sash | Barbour | Nanaimo |
| Spencer | Rourke | Prince George |
|   |   |   |
| Coaches |   |   |
| First Name | Last Name | City |
| Peter | DeMarchi | Burnaby |
| Mike | Riddalls | Port Alberni |
| Phoebe | Lau | Richmond |
| Sandra | Schuffert | Smithers |
| Julia | Tkaczyk | Vancouver |
| Jacky | Sheng | Nanaimo |
|   |   |   |
| SWIMMING |   |   |
| Athletes |   |   |
| First Name | Last Name | City |
| Jolyn | Watts | Port Alberni |
| Kimberley | Giesbrecht | Port Alberni |
| Amanda | Stewart | Parksville |
| Katie | Johnson | Surrey |
| Jennifer | Utendale | White Rock |
| Matthew | Burns | Mission  |
| Paul | Potma | Mission |
| Witchy | Meza Del Angel | Coquitlam |
| Sammy | Langthorne | Burnaby |
| Jamie | Barisoff | Chilliwack  |
| Nicholas | Hui | Burnaby |
| Simon | Vanderloo | New Westminster |
| Sebastien | Thomas | Port Alberni |
| Adam | Friesen | Abbotsford |
| Brandon | Mouangsouvanh | Abbotsford |
| Brodie | Stevens | Parksville |
|   |   |   |
| Coaches |   |   |
| First Name | Last Name | City |
| Megan | Owens | Chilliwack  |
| Wilson | Wong | Vancouver |
| Eric | Valihrach | Abbotsford |
| Barbara | Giesbrecht | Port Alberni |
| Julia | Tkaczyk | Vancouver |
SOBC Canada Games recap
Congratulations to the SOBC athletes who showed their skills at the Niagara 2022 Canada Summer Games August 6 to 21! Please click the names below for their bios and results, and click here for a full recap of their successes!
2022 Canada Games - SOBC swimming team
Hailey Borowski, Gibsons
Justin King, Mission
Bonnie-Jean Shade, Campbell River
Ramon Siytangco, Vancouver
Coach: Aaron Leontowich, Kamloops
Participant Assistant: Michelle Cruickshank, Nanaimo
Swimming events schedule and results
2022 Canada Games - SOBC athletics team
April Armstrong, Burnaby
Olivia Neuman, Surrey
Thomas Rak, Surrey
Jesse Thibeault, Surrey
Coach: Tom Norton, Abbotsford
Participant Assistant: Ailey Jarvis, Vancouver
Athletics event schedule and results
Congratulations also go out to the Special Olympics athletes who competed in Para events at these Canada Games! Good luck to all!
Watch Canada Games livestreams & recordings