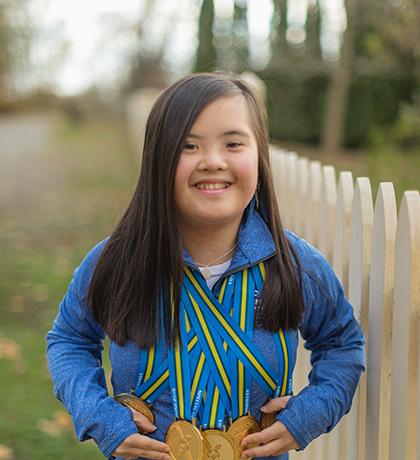 Special Olympics BC – Delta athlete Tiana Kirkegaard loves music, movement, and making friends through SOBC.
A talented rhythmic gymnast, Kirkegaard says the sport gives her opportunities to be active and express herself.
"I like the routines," she says.
Kirkegaard competed in the 2018 Special Olympics Canada Summer Games as a member of Team BC, earning an impressive total of five gold medals. Kirkegaard said she is very proud of how she did in Antigonish, Nova Scotia, and after the competition she felt "overwhelmed but happy!"
Kirkegaard's parents attended National Games and said it was a wonderful experience.
"For me, watching all of the athletes really brought tears to my eyes. I was deeply moved and the athletes were treated with such respect and support," said Tiana's mother Sandra Kirkegaard.
One of the youngest members of Team BC, Kirkegaard said her teammates did a great job of making her feel accepted and included. She made many friends in Antigonish, and Kirkegaard said she learned a lot from her experienced and knowledgeable teammates. One of Kirkegaard's favourite things about National Games was dancing with her friends at the Closing Ceremony.
Sandra Kirkegaard says she is very grateful to everyone who supported the athletes in Antigonish. She also said there was a great community of fans cheering on the athletes at the event.
"I was blown away by the camaraderie from the families supporting the athletes. It was an incredibly supportive environment."
Kirkegaard worked hard to prepare for National Games, and she is very grateful to the incredible coaches who helped her be at her best. This includes Team BC and SOBC – Vancouver coach Jennifer Fyfe and longtime SOBC – Delta coach Courtney Keith. Kirkegaard says working with Keith over the years has made her feel "happy and fearless."
Tiana's father Dan Kirkegaard says Special Olympics has helped Tiana develop confidence and the capacity to do things at a high level, like competing in rhythmic gymnastics. It has also helped her build social skills and learn to express herself.
Outside of SOBC, Kirkegaard enjoys being active – especially outdoors. She listens to a wide variety of music and enjoys learning from her three older siblings who are involved in music. She also loves dancing and performing, and she is in her high school's production of Oklahoma!.
Going forward, Kirkegaard wants to make many new friends and get work experience. For Special Olympics, her goals are to try her best and qualify for World Games.