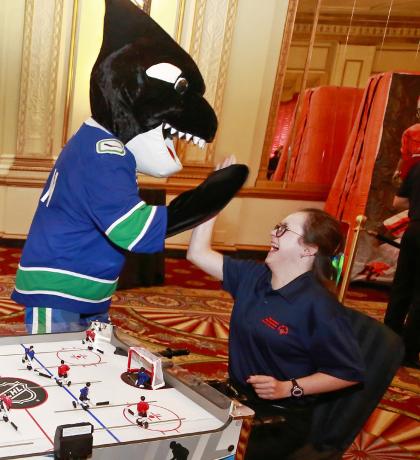 We'd like to give a huge thank you to the Canucks for Kids Fund for coming through for Special Olympics BC with a grant of $150,000. The grant will support SOBC's safe Return to Sport, volunteer recruitment efforts, and the development of health programming.
SOBC's Return to Sport plan details how we will rebuild and continue to adapt during these challenging times. SOBC volunteers, athletes, and supporters around the province have been working hard to safely reopen our empowering year-round programs and competitions.
Support from the Canucks for Kids Fund also played an important role in helping us launch the first-ever Special Olympics BC Provincial Challenge Games, which brought together nearly 1,000 athletes and volunteers from across B.C. through a series of virtual fitness challenges.
Special Olympics BC and the Canucks for Kids Fund have a longstanding friendship and we are grateful for their continued support, which has been critical throughout the ongoing challenges of COVID-19.
Most recently, we partnered with the Canucks for Kids Fund for the 2021 Sport Celebrities Festival presented by Wheaton Precious Metals. This virtual celebration of the power of sport raised nearly $320,000 to help the Canucks for Kids Fund and Special Olympics BC overcome the pandemic.
Since the shutdown in March 2020, the Canucks for Kids Fund has granted $7.2 million to charities across BC, including $1.2 million for COVID-relief efforts. The Canucks for Kids Fund is an ardent supporter of children's health and wellness, grassroots hockey, and education.
COVID-19 has created many challenges, but everyone here at SOBC has been inspired by the resiliency of our community and how we came together despite everything that's happened over the last few years. There is a long road ahead before we return to normal, but with the support of the Canucks for Kids Fund and our amazing community, Special Olympics BC will continue to thrive and come out of this stronger than ever.