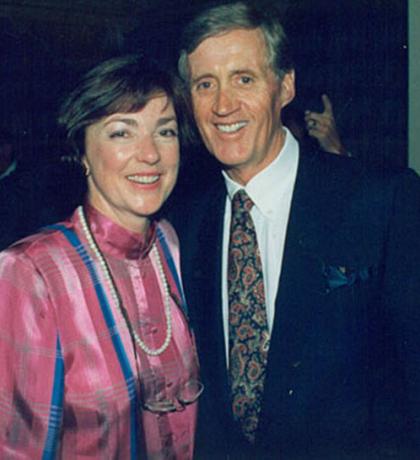 As we celebrate the 50th anniversary of Special Olympics this year, we are taking a look back at the #50moments that have defined the Special Olympics movement here in B.C. and throughout the world.
Howard Carter was an exceptional man who was an outstanding member of the automotive community.  Upon hearing of Special Olympics in the mid-1980's, he immediately set to work to encourage the automotive community in British Columbia and Canada to get involved.  His generosity and dedication to Special Olympics BC stand as one of the organization's first and most important building blocks.
In 1985, Howard joined the national Board of Directors of Special Olympics Canada.  Coincidently, he was Chair of the Canadian Automobile Dealers Association at this same time which provided him with a great opportunity to build the relationship between these two bodies.  His tireless efforts were recognized in 1988 when he was awarded the Harry "Red" Foster award for his outstanding dedication and efforts in support of Special Olympics.
In 1988, Howard was diagnosed with incurable lung cancer.  Before he passed away, a small group of his friends and associates met with Howard to tell him of plans to start an endowment fund for Special Olympics BC and of the creation of a new coaching award — and so began the Howard Carter Fund and the Howard Carter Award. Both of these would be administered by the Board of Directors of Special Olympics BC.
Howard passed away in 1988 but his legacy lives on.  Today, the Howard Carter Fund has grown to more than $860,000.  In building the Howard Carter Fund, it was members of the automotive community and friends of Howard that contributed generously to the fund. The Howard Carter Award recognizes a coach who provides exceptional training to the athletes and ensures that they are prepared to beat their personal bests and deliver high-calibre performances at competitions. Each year, the Howard Carter Award draws nominations from some of the most dedicated and well respected SOBC coaches from around the province.
In 2003, the Carter family – Howard, his wife Marnie, and son James – were elected to the SOBC Hall of Fame in the Builders (Provincial) category for their significant contributions to the organization. 
Perhaps the greatest legacy left for Special Olympics BC by Howard is the relationship that has developed with the New Car Dealers of BC. Over our 33 year history, more than $4.9 million dollars has been raised by New Car Dealers to support the efforts of Special Olympics BC. In addition to their fundraising efforts through an annual auction and the Howard Carter Fund, local dealers assist with Special Olympics programs in their community, provide vehicles for use at Special Olympics events, encourage employees to volunteer, and create awareness.
It was Howard Carter's dream to have the automotive community involved with Special Olympics and now, 33 years later, they are still a driving force.