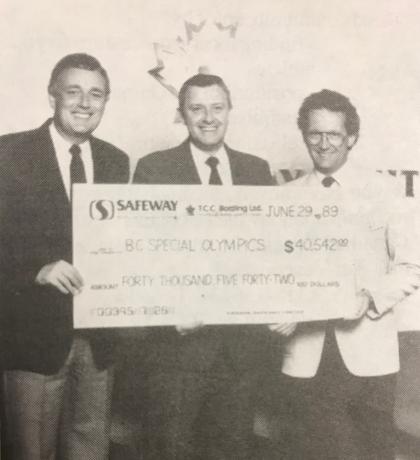 As we celebrate the 50th anniversary of Special Olympics, we are taking a look back at the #50moments that have defined the Special Olympics movement here in B.C. and throughout the world.
Thanks to the support of national and provincial partners, Special Olympics BC benefits from a number of in-store fundraising campaigns. In addition to raising vital funds for life-changing SOBC programs, these campaigns offer an important opportunity to raise awareness for Special Olympics, helping to spread our message of acceptance and inclusion to communities across British Columbia.
One of the first in-store campaigns for SOBC was thanks to the support of national partners Canada Safeway and Coca-Cola Canada. In 1989, these two companies joined forces to raise funds for SOBC by donating 25 cents from every six-pack of Coca-Cola sold in Safeway stores across the province during the month of March, which was proclaimed as Special Olympics month by the provincial government in 1986.
The Coca-Cola and Safeway campaign was a resounding success, raising more than $40,000 for SOBC. Over the next four years, the campaign raised more than $125,000 to support SOBC's growth and development during this crucial time.
Canada Safeway's parent company, Sobeys Inc., is a strong supporter of Special Olympics athletes, launching an in-store fundraising campaign in 2018, and Coca-Cola Canada continues to support Special Olympics programs as a partner of Special Olympics Canada.
Corporate sponsors and in-store campaigns continued to have a significant impact on SOBC, with national partner Home Hardware developing their first annual fundraising campaign for SOBC in 1999, and continuing their support of Special Olympics in Canada through to present day.
In 2000, Staples Canada launched their annual fundraising campaign for Special Olympics. This year, the Give a Toonie, Share a Dream campaign will celebrate its 19th year of support, and has raised more than $7 million to date for Canada's Special Olympics athletes. This inspiring fundraiser will take place in stores across Canada from April 27 to May 27.
Learn more about the Staples Canada Give a Toonie, Share a Dream campaign
In 2005, homeware retailer JYSK Canada came on board as a supporter of Special Olympics Canada. JYSK Canada has supported Special Olympics athletes through a number of in-store fundraising campaigns over the course of their longtime support, and is currently donating 100 per cent of the proceeds from the sale of a toy goose to Special Olympics programs across Canada.
We are so grateful for the opportunity to benefit from in-store fundraising campaigns through our dedicated corporate partners. This support truly makes a difference to Special Olympics athletes and brings our message of hope to communities across Canada.