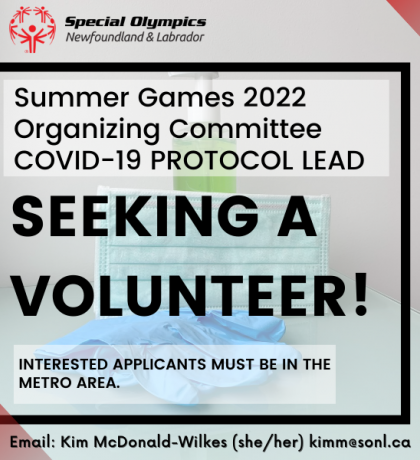 COVID-19 PROTOCOL CHAIR
Member of the Organizing Committee (OC). The OC typically meets monthly, beginning 12-6 months prior to Games, moving to bi-weekly 4 months prior then weekly 1-2 months prior. The COVID-19 Protocol Chair would be available, and on-site throughout the duration of the Games. SONL Staff and additional volunteers work in conjunction with all OC members as required. The COVID-19 Protocol Chair will help recruit & support the venue safety volunteers(s) at each venue, ensuring all COVID-19 safety protocols and processes are in place and adhered to by all participants. The COVID-19 Protocol will follow both Special Olympics Canada (SOC) and SONL policies and procedures.
Supporting Documents provided by SONL to assist:
Return to Competition Plan
SONL Proof of Vaccination Policy
Attendance Protocol
Positive Case Protocol (in conjunction with Medical Lead)
Minimum Requirements
Ensure each committee has sufficient personal protective equipment (PPE), cleaning/disinfecting supplies, and hand sanitizer available.
Ensure Attendance Protocol and Proof of Vaccination Policy are being followed at all venues/events.
Ensure Public Health guidelines are being followed at all venues/events.
Work with Medical Lead to ensure Positive Case Protocol is being followed.
COVID-19 Protocol Committee Checklist
Prior to Games
Coordinate with each committee to ensure all required PPE is accessible
Coordinate with Medical Lead to ensure all first kits have required PPE
Ensure each venue/event has the required number of Safety Volunteers
With support from SONL implement Return to Competition protocols for Games 
With support from SONL, develop and implement safety volunteer onboarding process 
Coordinate with all committees to have a Return to Competition plan in place specific to their needs 
Coordinate with venues to ensure Venue Specific guidelines are communicated and followed 
Create and distribute signage as needed 
With support from SONL, develop a logistical plan for Proof of Vaccination Process & Procedures
During Games
Assist safety volunteers as needed to follow all Public Heath guidelines 
Assist safety volunteers as needed to follow Return to Competition plan
Assist safety volunteers and venues with Proof of Vaccination Process and Attendance Protocol 
Post Games
Collect all unused PPE 
Collect and return all signage 
Thank volunteers (in conjunction with SONL) 
Prepare final report
If you are a current Special Olympics NL Volunteer, located in the metro area and interested in being a part of our Special Olympics NL Summer Games 2022 Organizing Committee
please email SONL Program Director, Kim McDonald-Wilkes (she/her) at kimm@sonl.ca.
We will accept expressions of interest until the end of business day Dec 3, 2021.