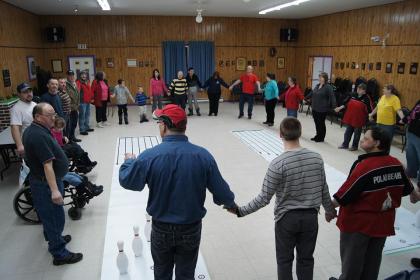 To get involved with the Bonavista North Polar Bears as an athlete, coach or volunteer contact:
Dave Crocker
(709) 536 3190
crockerdave@hotmail.com
Hubert Spurrell
(709) 536 5593
hubertspurrell@hotmail.com
Special Olympics Bonavista North Polar Bear athletes are welcomed and in for a great time; for more information please visit Sport and Program
Club Information
Special Olympics Bonavista North Polar Bears have their own facebook page - we invite you to like their page.
We would like to remind everyone of SONL's registration policy:
"Athletes are eligible to register for one Special Olympics club. If a sport is at full capacity or not offered at their home club they may attend another Special Olympics club for that sport. They must remain with that sport program for the remainder for the season. Athletes will pay a registration fee to the home club. Sports fees, if applicable, will be paid to the corresponding sport program. When athletes compete with their sport club; their registration and travel fees should be paid by their home club."
Program Information
For information about Bonavista North Polar Bear's programs please contact the club.