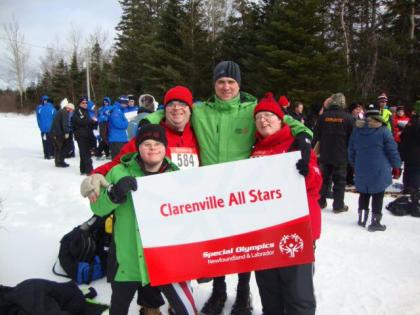 To get involved with the Clarenville All Stars as an athlete, coach or volunteer contact:
Donna Walsh
(709) 429 0669
djwalsh059@gmail.com
Colleen Abbott
(709) 462 2013
cpabbott@bellaliant.net
Special Olympics Clarenville All Stars athletes can start participating in a variety of programs; for more information please visit Sport and Programs
Club Information
  We would like to remind everyone of SONL's registration policy:
 "Athletes are eligible to register for one Special Olympics club. If a sport is at full capacity or not offered at their home club they may attend another Special Olympics club for that sport. They must remain with that sport program for the remainder for the season. Athletes will pay a registration fee to the home club. Sports fees, if applicable, will be paid to the corresponding sport program. When athletes compete with their sport club; their registration and travel fees should be paid by their home club."
Program Information
Activity
when
Time
location
Athletics*
Wednesday
*Alternating Weeks
7:00 - 8:30pm
Riverside Elementary School
Bocce*
Wednesday
*Alternating Weeks
7:00 - 8:30pm
Riverside Elementary School
5 Pin Bowling
Saturday
10:30 - 12:00pm
Caribou Lanes
Snowshoeing
Saturday (Winter)
1:00 - 2:00pm
Elizabeth Swan Park