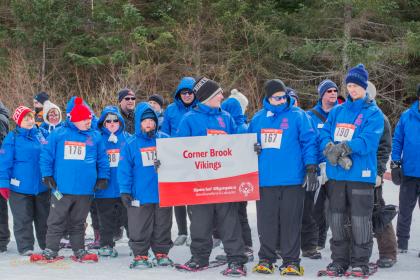 To get involved with Corner Brook Vikings as an athlete, coach or volunteer contact:
 Sherry Humber
 (709) 638 9619
 socbsocialdirector@outlook.com
 Tony Bullen
 (709) 634 9654
 tonyb@nl.rogers.com
 Brenda Thomas
 (709) 638 5215
 pbthomas1975@yahoo.ca
Special Olympics Corner Brook Vikings athletes can start participating in variety of program, for more information please visit Sport and Programs
club information
 We would like to remind everyone of SONL's registration policy:
 "Athletes are eligible to register for one Special Olympics club. If a sport is at full capacity or not offered at their home club they may attend another Special Olympics club for that sport. They must remain with that sport program for the remainder for the season. Athletes will pay a registration fee to the home club. Sports fees, if applicable, will be paid to the corresponding sport program. When athletes compete with their sport club; their registration and travel fees should be paid by their home club."
program information
Activity
When
Time
location
5 Pin Bowling
Monday
Sept - June
6:00 - 8:00pm
Corner Brook Centre Bowl
Bocce
May - Aug
TBA
TBA
Athletics
(Track & Field)
Wednesday
Sept - June
6:30 - 7:30pm
St. Gerard's Elementary
Powerlifting
and/or Weight Training
Thursdays
Sept - June
6:30 - 7:30pm
YMCA
Cross Country Skiing
Jan - March
TBA
Blomidon Cross Country Ski Park
Snowshoeing
Jan - March
TBA
East Side Sports Field
Speedskating
 
 
 
Annual registration
$125 Some sports do have additional fees, but those fees are payable to their governing organization and not to Special Olympics.
- Long and short-sleeve t-shirts are provided to each athlete, and additional team apparel (such as jackets and hats) are available for purchase.
 - Attendance and transportation to weekly practices or social events is the responsibility of parents, guardians, or caretakers of athletes. It is not the responsibility of coaches or volunteers to pick up or drop off athletes for these events.
 - Special Olympics Corner Brook began in 1997 with 9 athletes and 4 coaches, and has since grown to 41 athletes and 35 coaches/volunteers.