Parents, guardians, caregivers and friends of Special Olympics athletes play an important role in each athlete's success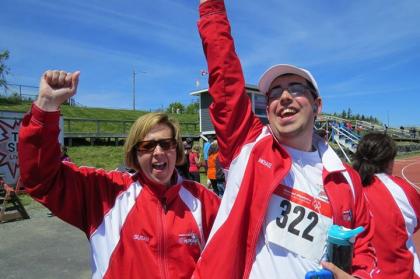 Families and supporters are one of Special Olympics' most significant and influential assets. YOU make a difference. They are some of our strongest ambassadors. Family members often become coaches, raise funds, officiate and chaperone. Involved family members also often bring in new members and help them get acquainted with Special Olympics.
 Special Olympics NL is extremely appreciative of the families that support our initiatives. You make a difference by encouraging athletes to make healthy lifestyles choices, by cheering them on at practice and competitions and by providing all-around support. Family members and guardians are the Number 1 fans of our Special Olympics athletes.
 If your family or extended family includes a person with an intellectual disability, we encourage you to join the Special Olympics NL community. Our organization promotes:
 - a network of support from other people and families that are involved with Special Olympics
 - a place of acceptance, belonging and mutual respect
 - ongoing programs for your family member
 - opportunities to be a club or provincial ambassador
 To support our athletes and feel the joy of the Special Olympics movement as a volunteer, read about the kind of roles we offer. Please visit our Volunteers page. You can find out more about opportunities in your area by getting in touch with one of our clubs.