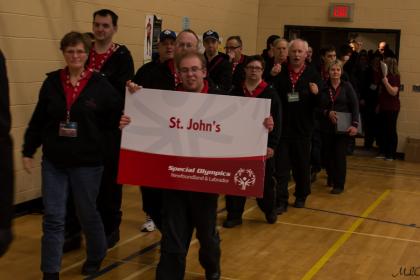 To get involved with St. John's Explorers as an athlete, coach or volunteer contact:
 Maryanne Walsh
 (h) 895 6606 or (c) 746 5122
 walshmaryanne@gmail.com
 Velma Mueller
 velmamueller@aol.com
Special Olympics St. John's Explorer athletes can start participating in a variety of programs, for more information please visit Sports and Programs.
 Programs ages: 6 and Up
 Learn to Swim - athletes must have water experience and be able to take direction
 Bocce
 5 Pin Bowling
 Cross Country Skiing
 Rhythmic Gymnastics
 Soccer
 Snowshoeing
 Program age: 10 and Up
 Athletics (open gym/physical fitness night)
 Bocce
 5 Pin Bowling and 10 Pin Bowling
 Cross Country Skiing
 Curling
 Floor Hockey
 Rhythmic Gymnastics
 Athletics (Compete in Track & Field Competitions)
 Snowshoeing
 Soccer
 Program age: 12 and Up
 Golf
Club Information
Special Olympics St. John's Explorers has a Facebook Page
 We would like to remind everyone of SONL's registration policy:
 "Athletes are eligible to register for one Special Olympics club. If a sport is at full capacity or not offered at their home club they may attend another Special Olympics club for that sport. They must remain with that sport program for the remainder for the season. Athletes will pay a registration fee to the home club. Sports fees, if applicable, will be paid to the corresponding sport program. When athletes compete with their sport club; their registration and travel fees should be paid by their home club."
 All athletes, including other clubs in the metro area and members of Vera Perlin, are invited to all of our dances.
Program Information
| Activity | When | TIME | location |
| --- | --- | --- | --- |
| Athletics | Monday | 6:30-7:30pm | Bishop Abraham School |
| 5 Pin Bowling | Tuesday | 6:30-8:00pm | Plaza Bowl |
| Rhythmic Gymnastics | Tuesday | 6:30-7:30pm | Church of Jesus Christ Latter Day Saints |
| 5 Pin Bowling | Wednesday | 6:30-8:00pm | Plaza Bowl |
| Athletics (Track & Field) | Thursday | 6:30-7:45pm | Bishop Abraham School |
| Snowshoeing | Saturday | 10:00-12:00pm | Pippy Park |
| Swimming | Saturday | 4:400-5:25pm | H.G.R. MEWS Centre |
| Learn to Swim | Saturday | 4:00-4:40pm | H.G.R. MEWS Centre |
| Floor Hockey | Saturday | 2:00-3:00pm | H.G.R. MEWS Centre |
| Curling | Sunday | 1:00-2:30pm | Remax Cenre |
| Cross Country Skiing | Sunday | 10:00am-1:30pm | Pippy Park |
| Golf | Monday | 6:30-8:00pm | Bally Haly |
| Bocce | Tuesday | 6:00-7:30pm | Techniplex |
| Soccer | Wednesday | 6:00-7:30pm | MUN Soccer Field |
| 10 Pin Bowling | Thursday | 6:00-7:30pm | St. Pat's Bowling Alley |
| FUNdamental's | Saturday | 1:00-2:00pm | Paul Reynolds Centre |
| Active Start | Saturday | 1:00-2:00pm | Paul Reynolds Centre |
| Powerlifting | Sunday | 1:00-2:00pm | Power-Plex |