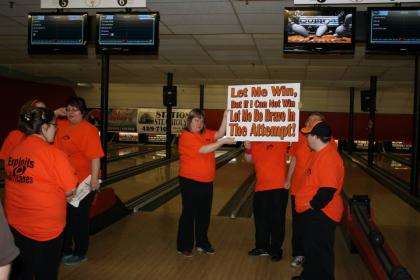 To get involved with the Exploits Hurricanes as an athlete, coach or volunteer contact:
Colleen Ryan
(709) 486 6653
cmryan1967@hotmail.com

Pauline Price
(709) 486 8646
paulineprice@hotmail.com
Special Olympics Exploits Hurricanes athletes can start participating in a variety of programs; for more information please see Sports and Programs.
Club Information
  We would like to remind everyone of SONL's registration policy:
 "Athletes are eligible to register for one Special Olympics club. If a sport is at full capacity or not offered at their home club they may attend another Special Olympics club for that sport. They must remain with that sport program for the remainder for the season. Athletes will pay a registration fee to the home club. Sports fees, if applicable, will be paid to the corresponding sport program. When athletes compete with their sport club; their registration and travel fees should be paid by their home club."
Program Information
| Activity | when | time | location |
| --- | --- | --- | --- |
| Fitness Night / Club Fit | Monday | 6:00 - 7:00pm | Sprucewood Academy |
| Athletics | Tues & Sun | 4 - 5pm & 7:30 - 8:30pm | Centennial Field / Sprucewood Academy |
| Bocce | Wednesday | 3:30 - 4:30pm | Centennial Field |
| Curling | Tuesday | 6:00 - 8:00pm | Exploits Curling Club |
| 5 Pin Bowling | Thursday | 6:15 - 7:30pm | Exploits Lanes |
| Snowshoeing | Sunday | 2:30 - 3:30pm | Exploits Nordic Ski Club / Centennial Field |
| Swimming | Wednesday | 4:00 - 5:00pm | YMCA Pool |
| Cross Country Skiing |   |   | Exploits Nordic Ski Club |
| Rhythmic Gymnastics |   |   | Woodland Primary |