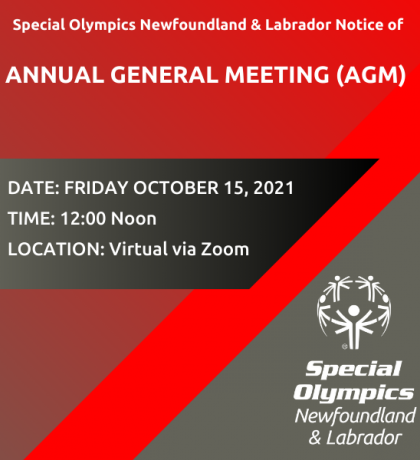 Special Olympics Newfoundland & Labrador Notice of Annual General Meeting
-------------------------------------------------------------------------------------------
The Special Olympics NL AGM will take place on Friday, October 15th, at noon, virtually on Zoom. The AGM is open to all members of Special Olympics NL.
To attend, please register here: https://bit.ly/sonlagm2021
Once registered, you will receive a confirmation email containing the link needed to join the meeting. The confirmation email will be sent out again as a friendly reminder on the morning of the AGM.
For Community Clubs, you can only have one (1) person designated as your club's voting delegate, and this is generally the Club Coordinator. If the Club Coordinator cannot attend, please select one (1) person from your club to be designated as the voting member during the AGM.
If you have any questions regarding the Annual General Meeting, please do not hesitate to reach out to SONL Executive Director Trish Williams, trishw@sonl.ca.