Sobeys wants to raise $1 million for Special Olympics athletes. Are you up for the challenge?

From April 1 to 15, Sobeys banner stores from coast to coast are holding an in-store fundraising campaign to support Special Olympics athletes across Canada. To participate, all you have to do is say "YES" to donating $2 at your local Safeway, Thrifty Foods, or Safeway Fuel checkout. 
Your support creates opportunities for athletes with intellectual disabilities to make friends, learn skills and stay healthy.   
"Special Olympics gives athletes a chance to do their best at each person's level"

-Nanaimo athlete Arianna Phillips
For Phillips, competing in high jump at the 2019 Special Olympics World Games was an achievement to remember and a chance to reach her personal best. "I pushed myself harder than ever and I really had to focus and not get into my head too much," she said.
After securing the gold medal with a jump of 1.20m, Phillips knew she had to keep going until she could not jump any higher. "I was able to focus and push myself even harder and jump 1.37m! I was so overcome with emotion that I collapsed to the ground with tears of happiness," she recalled. Please click here to be inspired by her magic moment!
From April 1 to 15, visit your local Safeway Canada or Thrifty Foods store to make a donation at the checkout. With your help, we can raise $1 million and help Special Olympics athletes like Phillips reach their personal best.
Sobeys, a dedicated partner since 2016, helps Special Olympics athletes, families and coaches eat better and feel better with nutrition guides, cooking classes and fresh, accessible food.                                      
Together, we can help Special Olympics athletes who are hungry to participate.
Contest 
Sobeys and Special Olympics BC know the impact proper nutrition can make in fueling healthy bodies and healthy minds. 
During the Sobeys fundraising campaign April 1 to 15, hop on social media to share a photo of yourself preparing or enjoying your favorite healthy recipe, showing how Safeway and Thrifty Foods help fuel Special Olympics! You'll be entered to win one of three $10 Sobeys gift cards.
To enter, share your healthy eating photo on Facebook or Instagram between April 1 and 15, and make sure to tag @specialolympicsbc and @sobeys!  
Need ideas for healthy recipes? Check out the Sobeys Nutrition Corner, and the Wellness Wednesday Facebook Lives by Sobeys Dietitians! Arianna's favourite healthy recipe is making butter chicken with bell peppers for added nutrition. One of the tips she has implemented from the Sobeys Nutrition Corner is using peppers as a flavour builder, as mentioned in the handout about fruits and vegetables!
The contest will be open from April 1 to 15. Winners will be drawn and announced in the week of April 19. 
About the Partnership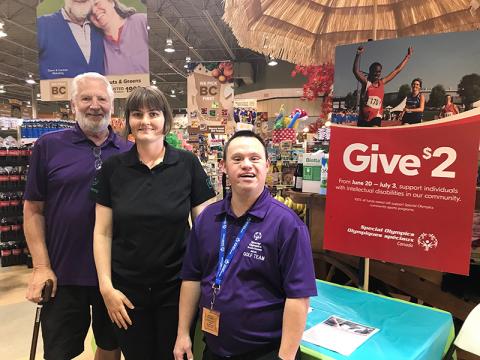 Since 2016, Sobeys has been a proud national partner of Special Olympics Canada. Empowering Special Olympics athletes to live healthier lives has been a mission for Sobeys from the earliest days of our national partnership. Here's how Sobeys is involved with Special Olympics across Canada:
In 2020, Sobeys made an impactful $1 million donation to Special Olympics Canada, and supported the Special Olympics community with ongoing nutrition education. Read more
In 2019, Sobeys made a difference through their second annual fundraising campaign, which raised almost $930,000 for Special Olympics programs across Canada. Read more 
Support for Special Olympics is year-round – from food donations for provincial events, to in-kind support, fundraisers organized by local stores and a national corporate commitment.
Special Olympics athletes are employed in stores from coast to coast – helping Sobeys build a powerful understanding of how to create a diverse and inclusive workforce. Read more about SOBC – Delta's Scott Fattedad, a popular Thrifty Foods employee in Tsawwassen 
Special Olympics BC is so thankful to all the Sobeys, Safeway, Thrifty Foods, and Safeway Fuel stores and customers throughout our province who generously support SOBC athletes and programs!
Stories
Read more about Sobeys, Safeway, and Thrifty Foods support of Special Olympics in B.C.
In March 2011, Special Olympics BC athlete Matthew Williams inspired a room full of 500 Safeway employees from the Lower Mainland on the kickoff day of Safeway's fundraising campaign for Special Olympics. Watch Matt in action below: