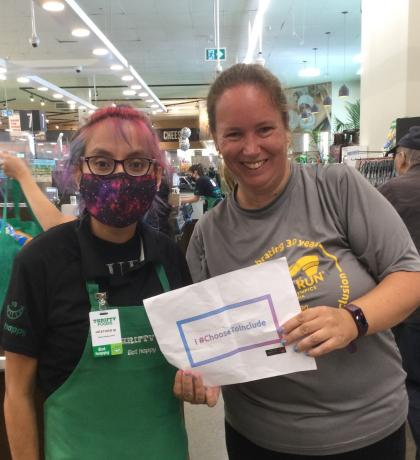 Victoria's Sheenagh Morrison has been part of Special Olympics BC for 22 years. She first got involved with swimming, and fell in love with being in the pool. Morrison has been a successful swimmer ever since, and has participated in numerous additional sports with SOBC – Victoria.
Before joining Special Olympics, Morrison had encountered many challenges in her life and she worked incredibly hard to overcome those challenges.
"I had a lot of speech therapy in my early childhood years," Morrison said. "I couldn't speak until the age of 18. And since then, I've done public speaking for Special Olympics, radio ads for Thrifty Foods where I work, and I'm on the SOBC – Victoria Athlete Input Council."
Morrison has become an incredible leader and works hard to instill confidence in her peers through her advocacy and public speaking. She's worked so hard to achieve her dreams, and she thanks the Special Olympics community for how much they've helped along her journey.
"Special Olympics has helped me believe in myself and achieve my goals. Without Special Olympics I'd still be a very shy person. I'm not as shy anymore, thanks to Special Olympics and all the friends I've made," Morrison says.
For 16 years, Morrison has also been working at Thrifty Foods in Victoria, and is very grateful for the support they've shown her. Thrifty Foods and Safeway are valued provincial Special Olympics BC sponsors. They have a deep impact on athletes and programs throughout the province through their significant donations, impactful annual fundraising campaign, and ongoing support of health and wellness opportunities. They have also hired many Special Olympics athletes as valued staff members.
From June 1 to 8, 2023, Safeway, Thrifty Foods, and Empire Company Limited banner stores from coast to coast held their in-store fundraising campaign to support Special Olympics athletes across Canada.
"Thrifty Foods is a huge sponsor of Special Olympics in any community event, as I am. So I love working for a company that will support hiring people with developmental disabilities and support Special Olympics," Morrison said.
-Article written by Parmvir Kang of BCIT Online & Broadcast Journalism