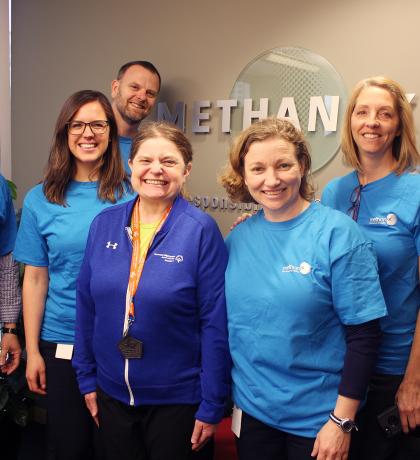 Methanex Corporation is dedicated to creating life-changing opportunities for young athletes with intellectual disabilities across the province.
Since signing on as a provincial partner in 2019, Methanex and its employees have generously donated more than $50,000 to support Special Olympics BC's empowering programs. Their funding has made a big difference for SOBC's youth initiatives, including our virtual youth programs and the Inclusive School Sport Project.
Methanex is also the sponsor of SOBC's Youth Sports Day in the Lower Mainland. In a typical year, this fun-filled in-person event allows youth program participants to celebrate the end of their season and helps new athletes and families give Special Olympics a try. Methanex employees have also joined the fun by volunteering at the event.
"Everyone at Methanex is thrilled to be partnering with Special Olympics BC. The work that the organization does to provide opportunities for inclusion and growth through the joy of sport is truly inspiring," said Methanex President and CEO John Floren in 2019.
Methanex is committed to making a lasting positive impact in the communities where they live, work, and play. They are headquartered in Vancouver, and their employee-run social responsibility committee in the city supports a number of community programs and provides many opportunities for their employees to volunteer and give back.
In 2021, Methanex staff members got bold and cold with the first-ever Virtual Polar Plunge for Special Olympics BC. With Methanex matching the money the employees raised, they brought in more than $6,000 to support SOBC.
"Methanex is a wonderful company made up of incredible people. They have worked really hard to support Special Olympics BC, sponsoring and volunteering at Youth Sports Days, and most recently, participating in the Polar Plunge. We are extremely grateful for their continued support!" SOBC President and CEO Dan Howe said.
Thank you to Methanex for making a huge difference for young athletes with intellectual disabilities and their families!