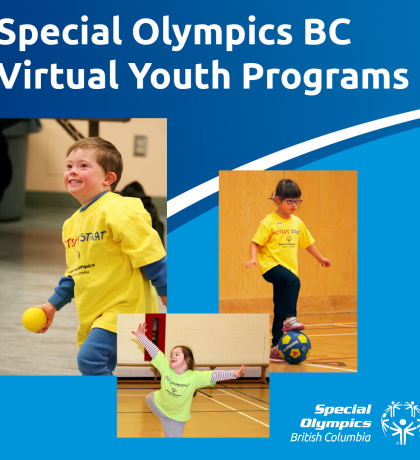 Special Olympics BC's youth programs Active Start (ages 2 to 6) and FUNdamentals (ages 7 to 11) offer valuable sport and social opportunities for children with intellectual disabilities. A virtual version of these popular programs is now available!
Participants can have fun connecting virtually with fellow families and trained program leaders who will teach basic sport skills through engaging activities from the safety of their own home.
SOBC – Abbotsford, Richmond, and Vancouver are the first communities to offer SOBC Virtual Youth Programs! SOBC – Vancouver is currently welcoming participant registration from across the province for their virtual Active Start program. Learn how to join the fun
Any SOBC Local with a youth program volunteer can run a virtual program.
If you would like to volunteer or participate in a virtual youth program, please contact Helen Cheung, SOBC Sport Manager, by email or by phone at 604-737-3055.
To access at-home resources for children with intellectual disabilities and families, please click here.
SOBC youth programs are generously supported by the Government of British Columbia, the Government of Canada, Tim Hortons, and Methanex.