At-home activities
Families, schools, and supporters can use the below resources to keep the fun activities going at home!
Videos
Watch Special Olympics International's videos demonstrating the individual activities in Young Athletes programs:
Nutrition and more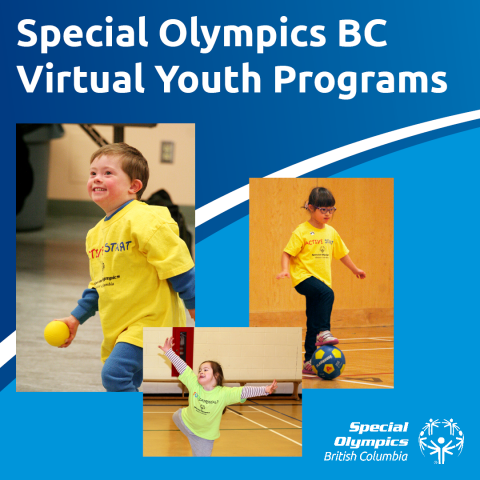 Virtual Youth Programs
Special Olympics BC's youth programs Active Start (ages 2 to 6) and FUNdamentals (ages 7 to 11) offer valuable sport and social opportunities for children with intellectual disabilities. A virtual version of these popular programs is now available! 
From the safety of their own home, participants can have fun connecting with fellow families and with trained program leaders who will teach basic sport skills through engaging activities.
SOBC youth programs offer participants regular, high-quality physical activity as well as the development of self-esteem and a sense of belonging. Joining the SOBC family expands social and support networks for athletes and families alike!
If you would like to volunteer or participate in a virtual youth program, please contact Helen Cheung, SOBC Sport Manager, by email or by phone at 604-737-3055.
A family's experience
See why Levi and his family love Special Olympics:
Contact
Helen Cheung
SOBC Sport Manager
604-737-3055
hcheung@specialolympics.bc.ca