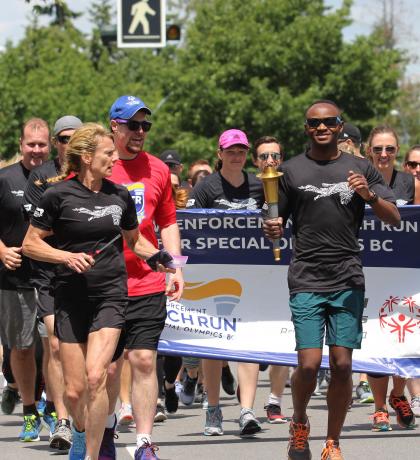 Law Enforcement Torch Run for Special Olympics BC members have been lacing up to support SOBC athletes for more than 30 years. 
Powered by dedicated law enforcement members from across the province, this inspiring movement strives to help Special Olympics BC athletes experience acceptance, achievement, and admiration through sport. Since it took its first steps in 1990, the BC LETR has raised more than $4 million to support SOBC's life-changing programs for athletes with intellectual disabilities. 
"I would like to thank all the dedicated Law Enforcement Torch Run members across the province who do so much to support us! Your hard work in raising funds and awareness gives athletes like me opportunities to live happier, healthier lives," SOBC – Coquitlam athlete Amanda Manzardo said during the 2017 Lower Mainland Torch Run. 
In a typical year, BC LETR members come together in their communities to raise funds and awareness through run and walk events. They run shoulder to shoulder with SOBC athletes, carrying the Flame of Hope and spreading a message of respect and inclusion for people with intellectual disabilities. 
BC LETR members were not able to hold in-person events in June 2020, so they launched the first-ever Virtual Torch Run for SOBC. The event was a big success – with participants raising more than $66,000 and racking up more than 5,700 kilometres.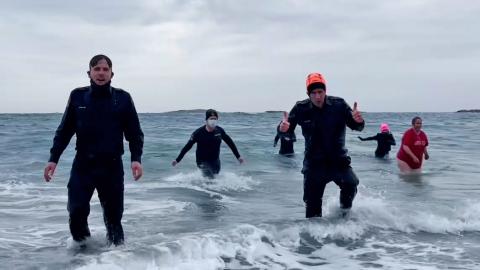 "Law enforcement members are doing so much to keep everyone safe during this unique time. Special Olympics BC deeply appreciates how our law enforcement friends continue finding opportunities to support our life-changing movement," SOBC President & CEO Dan Howe said prior to the Virtual Torch Run. 
Learn about the 2021 Virtual Torch Run – coming June 7 to 20!
BC LETR members also make a big splash through the Polar Plunge for SOBC. Before the pandemic, brave Plungers came together in large groups and charged into icy waves at annual fundraising events in Vancouver, Victoria, and Revelstoke. 
This year, participants from across the province got cold and creative through the first-ever Virtual Polar Plunge for SOBC. From February 20 to March 7, Plungers dove into freezing water, jumped into cold snow, braved icy showers, got blasted by water balloons, faced down fire hoses, and so much more. Along with being an absolute blast, this frigid and fun event brought in more than $200,000 for SOBC.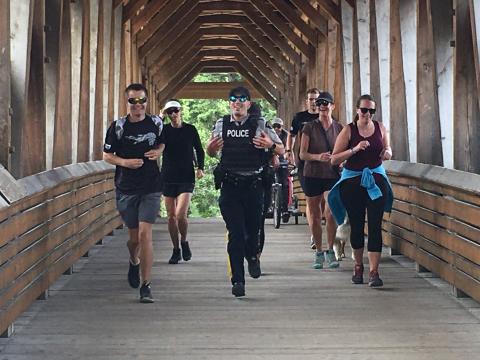 "You impressed us with your courage, wowed us with your creativity, and floored us by raising a massive amount of money!" BC LETR Provincial Director Rick Lucy said during the event's live show. "We couldn't hold in-person events this year because of the pandemic, but you still made this the best-ever fundraising year for the Polar Plunge for Special Olympics BC!"
In normal times, law enforcement members also raise funds and awareness through golf tournaments, overtime drives, athletic challenges, hockey games, and many other creative events and initiatives. 
BC LETR members also show their respect and admiration for Special Olympics athletes by awarding medals and ribbons at competitions. 
We are incredibly grateful to Law Enforcement Torch Run for SOBC members for how they consistently step up to make a difference for Special Olympics BC athletes!