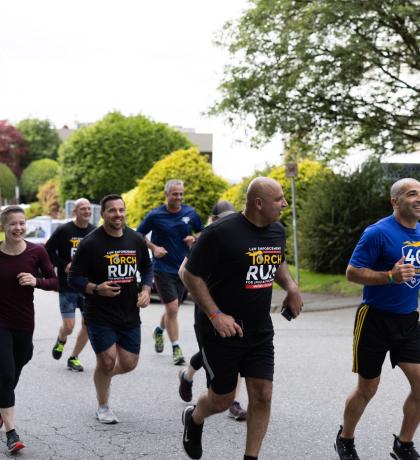 Law Enforcement Torch Run for Special Olympics BC members have been lacing up to support SOBC athletes for more than 30 years. 
Powered by dedicated law enforcement members from across the province, this inspiring movement strives to help Special Olympics BC athletes experience acceptance, achievement, and admiration through sport. Since it took its first steps in 1990, the BC LETR has raised more than $5 million to support SOBC's life-changing programs for athletes with intellectual disabilities. 
"Your hard work in raising funds and awareness gives athletes like me opportunities to live happier, healthier lives," SOBC – Ridge Meadows athlete David Stevenson said in his speech at the Ridge Meadows RCMP run. Check out this Maple Ridge-Pitt Meadows News article to read more.
Each year, BC LETR members come together in their communities to raise funds and awareness through run and walk events. They run shoulder to shoulder with SOBC athletes, carrying the Flame of Hope and spreading a message of respect and inclusion for people with intellectual disabilities.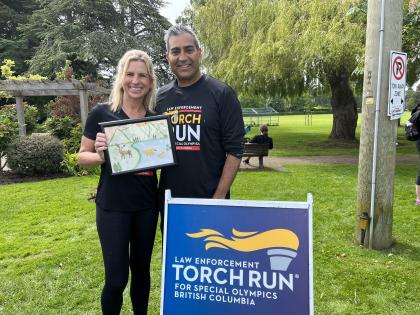 In June 2022, SOBC athletes and law enforcement members from some communities were finally able to run together again in-person, after two consecutive years of virtual torch run events due to the COVID-19 pandemic. Others also participated virtually, as it kept people connected from all over the province. Participants had a blast and cheered each other on in support of SOBC athletes and programs.
Cst. Lisa Bruschetta, a member of the Saanich Police Department, has been a long-time participant and organizer of BC LETR events. She spoke to the Victoria News about her connection to the BC LETR and the athletes it supports.  
"They're just an amazing group of athletes and they pride themselves when it comes to having team spirit … being inclusive. They're positive and they create so many amazing friendships." 
BC LETR members have also made a big splash through the Polar Plunge for Special Olympics BC presented by Prospera Credit Union! 
The 2022 Polar Plunge took place virtually across the province from March 5 to 20, with law enforcement agencies, SOBC athletes, and other supporters getting cold and creative to complete their Plunges.
Plungers dove into freezing water, jumped into cold snow, braved icy showers, got blasted by water balloons, faced down fire hoses, and so much more. The frigid and fun fundraiser was a tremendous success, as it raised $250,000 for SOBC!
Read more about the 2022 Polar Plunge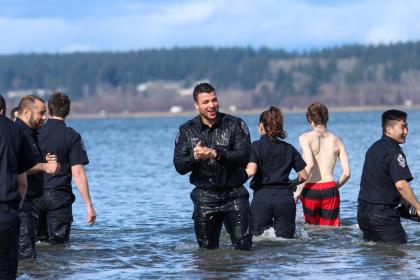 The pandemic has been especially hard on people with intellectual disabilities. The support from law enforcement organizations across the province is especially important in helping SOBC athletes get back to the joy of sports and to their SOBC communities. 
"I think everyone has felt disconnected the last few years, so for everyone to get back together and do this thing, jump in the river, it is a step to getting back to normal and creating that special community," SOBC – Trail volunteer and Plunger Chris Kuchar said to the Trail Times.
Law enforcement members also raise funds and awareness through many other events and initiatives, such as golf tournaments, overtime drives, athletic challenges, and hockey games!
BC LETR members also show their respect and admiration for Special Olympics athletes by awarding medals and ribbons at competitions. 
We are incredibly grateful to Law Enforcement Torch Run for SOBC members for how they continually strive to make a positive difference for Special Olympics BC athletes!