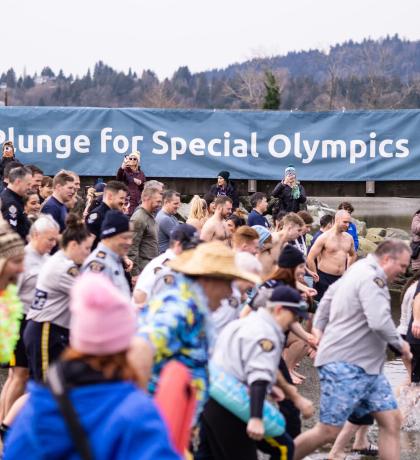 What a tremendous success! The 2023 Polar Plunge for Special Olympics BC made a huge splash, raising $330,000 to support SOBC's empowering sport, youth, and health programs!
The pandemic has had a long-lasting, far-reaching impact on athletes with intellectual disabilities, who were already far too familiar with the pain of isolation. By participating in the #Plunge4SOBC from February 18 to March 5, supporters helped reunite friends on the playing fields in SOBC's safe and inclusive programs.
At the Vancouver Island event, SOBC – Victoria athlete Jennifer Ferrier told participants that Special Olympics is a community that empowers her.
"Special Olympics has given me confidence in myself. I'm not so shy – it has helped me gain friendship and made me believe in myself. Special Olympics has also taught me that it's okay to be different, and that you don't always have to fit in. It's always great to stand out and that's what I like to do. I like to stand out in the crowd!"
This year, participants could choose to get chilly at an in-person event or take the Plunge from home.  From Saanich to Surrey, Kamloops to Kitimat, and Prince George to Port Moody – Plungers from across the province got bold and cold for SOBC!
Watch Vancouver Island Plunge highlights
Saanich video by Warren Gevers of Southpoint Studios
Check out #Plunge4SOBC social media posts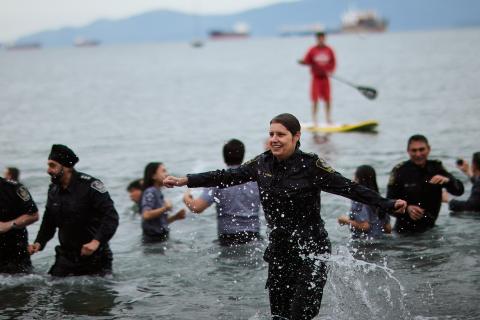 After a two-year pause because of the pandemic, the Vancouver Polar Plunge made its warmly anticipated return on March 4. Law enforcement champions, SOBC athletes, and members of the community came together and charged into the chilly waves of Kitsilano Beach! Big thanks to SOBC – Langley athlete Matthew Williams and Vancouver Police Department Sergeant Steve Addison for emceeing this exciting event.
Watch the Vancouver Polar Plunge
The Vancouver and Greater Victoria events were joined by super-fun Plunge events in multiple communities in all parts of B.C., as well as solo Plunges by brave supporters province-wide.
Prince Rupert RCMP Constable Brody Hemrich helped spread the word with his icy dip at Seal Cove, challenging other law enforcement agencies to take the Plunge. West Coast Marine Services and Kitimat RCMP answered the chilly challenge with their own brave Plunges in support of SOBC.
"Being invited to join in this event meant a lot to me," Hemrich said to the Terrace Standard. "The work Special Olympics BC does with its athletes is incredible, they provide opportunities for their participants to experience the joys and excitement of sport."
Celebrating #Plunge4SOBC award winners
Congratulations to all the event's top fundraising individuals and teams!
This year's top fundraiser was Special Olympics BC Director Michael Campbell, who raised an incredible total of almost $50,000. He took the Plunge at English Bay with former Premier of British Columbia Gordon Campbell, real-estate investor Ozzie Jurock, and the rest of the MoneyTalks team. 
"Quite a good turnout for Special Olympics – and all the people who donated, it's so much appreciated!" Michael Campbell said.
We are also very grateful to fellow Special Olympics BC Directors Ted Hirst and Pamela Keith for their incredible fundraising efforts!
Find all Plunge award and prize winners
Thank you for making a difference!
We are so grateful to Plunge participants, donors, the Law Enforcement Torch Run for Special Olympics BC, and the event's wonderful sponsors!
Community Partners: Dueck Auto Group and Prospera Credit Union
Media Sponsors: Citytv, Jack 96.9, OMNI Television, and SONiC
"We can't thank you enough and often I tell people I can't imagine my life without Special Olympics – and thankfully I never have to imagine that because of all your wonderful support!"
-SOBC – Langley athlete Matthew Williams
SOBC Athlete Reporters in action
SOBC – Kelowna Athlete Reporter Roy Stephens
SOBC – Creston Athlete Reporter Claire Lemaire
Polar Plunge for SOBC homepage