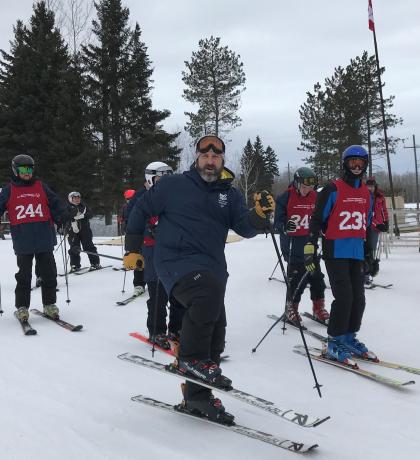 Mark Schnurr has been involved with Special Olympics BC – Coquitlam for over 30 years. The athletes are what has kept him coming back for three decades.
Schnurr says that seeing his athletes succeed is satisfying and touching. Even after 30 years of coaching, the emotions and pride for his athletes never gets old.
Special Olympics has been a major part of Schnurr's life. From the many coaching memories, to meeting his wife through volunteering with Special Olympics, Schnurr is incredibly grateful for the positive impact that SOBC has made on his life. Today, he is both a dedicated coach and serves on the SOBC Leadership Council as the valued volunteer Regional Coordinator for Region 3.
When did you start with Special Olympics, and how did you get involved?
I started when I was 15 years old, and I needed some volunteer hours for high school. So, my mom thought that Special Olympics might be good. I was a pretty sporty person growing up, so I started coaching soccer and athletics in Coquitlam. Then when I was 16, Coquitlam just lost their head coach for alpine skiing. So after the spring and summer seasons coaching soccer and athletics, I became the head coach for alpine skiing!
 
What do you love about coaching?
It's all about the athletes and their smiles. It's about achieving their goals and feeling like they're a part of something. I coach because of the athletes. When I see them go down the ski hill and beat somebody they haven't beat before, or get called up to the podium for a medal, it's the best thing anybody could ever witness. It brings tears to my eyes because it's satisfying, and to see the joy is just so amazing.
 
What have you learned from coaching Special Olympics athletes?
Every athlete learns at a different level. I find it rewarding to be able to break something down and they actually understand what I'm trying to get across. When I put a practice together, I want to make sure that each athlete understands things, so they can improve in the end.
 
What has been your most favorite or memorable experience at Special Olympics?
There's so many that we could actually write a book! Special Olympics has really been my life. I met my wife while helping out with athletics in Coquitlam, and I had a lot of great memories with coaches over the years. I've been coaching the same amount of years with fellow coach Randy Scott from SOBC – North Shore, and we are still buddies. We shared so many great memories over coaching and traveling together. One of the coolest things was my very first World Games, and we went to Austria in 2017 together for that. 
 
Why should other people get involved with Special Olympics?
Once you try it, you'll always want to come back. It's fantastic to watch and be a part of.