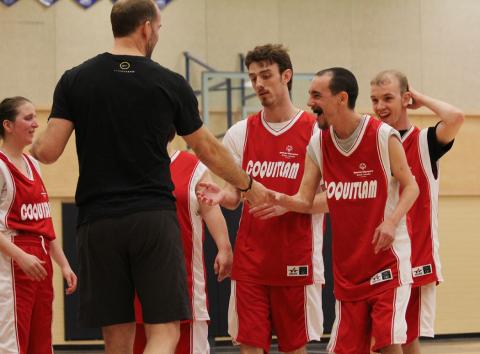 Special Olympics BC – Coquitlam is always welcoming athletes and volunteers to get involved in our joyful community!
Please click the button below to learn about the strong safety protocols in our programs, and complete your registration forms.
Please submit your registration forms to sobccoquitlamregistrar@gmail.com.
Volunteers can search available opportunities in our community using this form!
Please note that our community might not currently offer all of the sports listed on the registration form. After you submit your form, Special Olympics will contact you to confirm your registration and local details. Thank you for joining our joyful community!
About SOBC – Coquitlam
Special Olympics BC – Coquitlam is home to more than 200 athletes and 150 volunteers. Our dedicated volunteers work hard to provide high-quality programs for the athletes in the Tri-Cities.
We offer a wide range of spring and fall sports, including: 5-pin bowling, 10-pin bowling, swimming (including learn to swim), figure skating, speed skating (including learn to skate), floor hockey, rhythmic gymnastics, snowshoeing, alpine skiing, curling, basketball, soccer, softball, athletics, bocce, and golf.
Also offered are Active Start/FUNdamentals, Club Fit, high intensity cardio training, and walking club – there is something for everyone! 
Support SOBC – Coquitlam
To donate directly to SOBC – Coquitlam, please click on the button below.