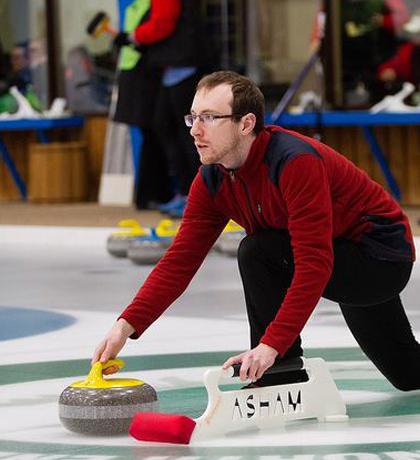 Brock Terlesky says Special Olympics BC has helped him grow as an athlete and a person. 
"How Special Olympics really changed me the most is by giving me self-esteem!" he says.  
Over his 10 years with SOBC – Quesnel, Terlesky has seen many other athletes develop sport and social skills through the Local's programs. He says this has been an inspiring experience. 
"I like feeling like I'm a spectator for growth," Terlesky says. "There is nothing like volunteering or being an athlete like myself and seeing the athletes improve over time."
After Terlesky's family moved to Quesnel when he was 13, his mom signed him up for a generic soccer program. Terlesky's teammates were at a higher skill level than he was, and he wasn't receiving the coaching he needed to get better. Terlesky said he felt left behind.
"I didn't not enjoy it, but I definitely struggled with it – and my parents could sense that," he said. 
The next year, Terlesky's mom got him involved with SOBC – Quesnel. When he started up with the Local's soccer program, he felt welcomed and included. Head Coach Rick Prosk was very patient, and Terlesky made some good friends – which made him feel less nervous.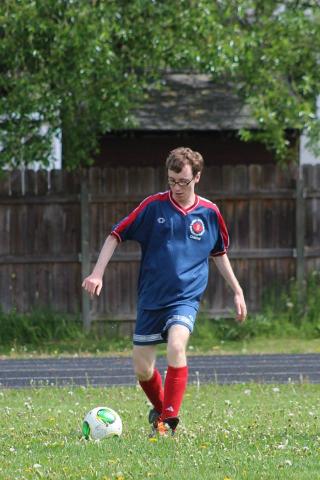 In his first year, the team travelled to a tournament in the Lower Mainland. The SOBC – Quesnel squad did very well, and Terlesky got to meaningfully contribute to his team's success. In the generic program, Terlesky felt he was put in the background; with the SOBC – Quesnel team, he was a valued midfielder who got to play big minutes.  
Now, Terlesky participates in basketball, curling, track and field, and soccer through SOBC – Quesnel. As an experienced and respected athlete, he is a leader who helps mentor new athletes. 
Terlesky said when he was growing up he often felt like the "black sheep" when he was with his friends or at school. He says being regarded as a leader is a new experience for him, and it has been rewarding.  
"I am happy and it definitely brings me joy when athletes gravitate towards me," he says. "It brought a change to me – it wasn't something I was used to."
Terlesky has had opportunities to travel for many high-profile competitions. This includes competing in curling at the 2019 SOBC Winter Games, soccer at the 2018 Special Olympics Canada Summer Games and 2017 SOBC Summer Games, and track and field at the 2017 Canada Summer Games and 2016 BC Summer Games.
Terlesky says his most powerful experience with sportsmanship came while competing in the Special Olympics division at the 2016 BC Summer Games in Abbotsford. Going to this event was a big deal for Terlesky, because it was his first time travelling with a group of athletes from around the province. 
Heading into his final event in Abbotsford, Terlesky had collected a lot of fourth- and fifth-place finishes, but had not yet found the podium. He was excited for the relay, and he believed his team had a good chance of winning a medal.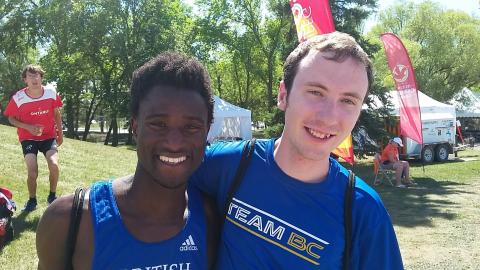 He ran as hard as he could, but Terlesky and a teammate mistimed handing off the baton – and the team was disqualified. When they got to the podium, Terlesky noticed he was the only athlete without a medal. He says this really sank in – and made him feel alone. 
Terlesky tried to let it go, but despite his best efforts, he was still very upset. On the way to dinner, he talked with a coach about what was bothering him. Terlesky said he was in tears as he explained how he was feeling. 
Then, SOBC – Surrey athlete Malcolm Borsoi walked up and gave Terlesky one of his medals. Terlesky felt better right away, and responded by giving Borsoi a big hug. 
"It meant a lot to me because it didn't matter what our results were, he saw my effort," Terlesky said. "It was the kindest sportsmanship I've seen. It's why I've tried to be a leader – this amazing athlete did something so nice for me that I felt compelled to do it as well."
The next year, Terlesky was selected to compete in the Special Olympics division of the 2017 Canada Summer Games in Winnipeg. Still inspired by Borsoi's kind gesture, one of Terlesky's goals was to show great sportsmanship throughout the event.   
Before each race, Terlesky made sure he shook hands with all his competitors and wished them good luck. Towards the end of the event in Winnipeg, he noticed that some athletes from other provinces had started doing the same thing. 
"Good sportsmanship is contagious," Terlesky says.
Along with contributing to a positive, inclusive atmosphere, Terlesky believes that showing good sportsmanship helps people build connections with each other. He says shaking hands with opponents and telling them they did a good job often leads to meaningful conversations – especially since both people probably share an interest in sports. Terlesky says he has made some good friends this way.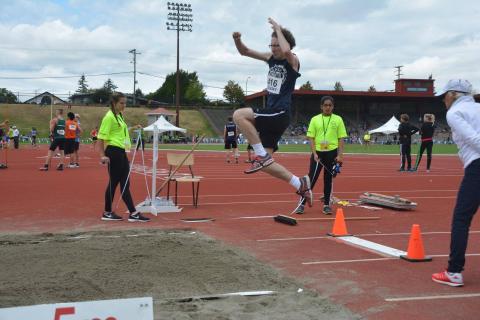 Outside of Special Olympics, Terlesky is training to be a behavioural interventionist. He works for Evans Consulting, where he helps kids who have autism develop life skills. Terlesky says the confidence and social skills he developed through SOBC have helped him succeed in this role and in other parts of his life. 
Currently, Terlesky is getting ready to go back to school for the first time in five years. He plans on doing some online courses through Douglas College that will help him with his goal of becoming a behavioural interventionist.
Check out Terlesky's great speech at May's Our Tellings fundraiser for Correlieu Secondary School's Breakfast Club