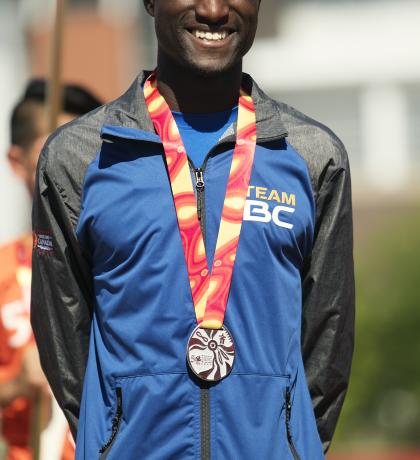 Special Olympics BC athletes made a big impression in the pool and on the track at the 2017 Canada Summer Games in Winnipeg July 28 to August 13, showing their abilities as they competed alongside more than 4,000 young athletes from all across the nation.
After racing hard in the 2017 Special Olympics BC Summer Games in Kamloops, four SOBC track athletes and four swimmers headed to Winnipeg to join Team BC for the 2017 Canada Games. The SOBC athletes were part of the provincial team alongside athletes who from generic and Para sport streams; in competition, the SOBC athletes went head to head with Special Olympics athletes from across the country in SO divisions, showcasing their skills in front of this big national sporting crowd.
SOBC – Campbell River's Jesse Shade set the tempo in swimming, winning five gold medals and smashing two Canada Games records for Special Olympics athletes with his times in 50m and 100m backstroke. On the track, SOBC – Surrey's Malcolm Borsoi earned two medals in two events, sprinting to 200m gold with a Canada Games-record time and a 100m silver.
On the athletics side, SOBC – Quesnel's Brock Terlesky, SOBC – Surrey's Melissa Semke, and SOBC – Burnaby's April Armstrong also shone in their 100m and 200m sprints, each achieving at least one personal-best time in their heats or races. In the pool, Shade was joined by SOBC – Cowichan Valley's Mikyla Carlow, Cameron Chambers of SOBC – Kamloops, and Genny Verge of SOBC – Sunshine Coast, all of whom won multiple medals and delivered strong performances.
"I'm just enjoying everything that's going on here. I am thanking everyone. This wouldn't happen without all the volunteers and their hours and hours of time," Shade told Team BC. "Train hard and go hard and work hard," added Shade, when describing what contributed to his success in Winnipeg. "The person I have to thank the most is my mum for waking me up at five in the morning, just to take me to practice."
"It felt good," Borsoi told Team BC after his races. Speaking with his hometown SOBC – Surrey coach Deborah Carter, Borsoi added, "I have no idea I had it in me, and I have seven amazing coaches to train me so it's all of our medals.
"I got more in me, I believe, to show you and the rest of Canada."
Of the Canada Games experience, he said, "It's nice to meet new people and meet different athletes. It's really good."
Team BC caught up with Terlesky after his 100m race and found him happy with the personal-best time he delivered in the event. "It felt pretty good. My quad was a bit sore before the race, so I was a little bit concerned about that. But I was hoping for a PB, so it felt good today."
The swimmers were equally proud of their performances and the opportunity to race at Canada Games.
"I am very honoured to be here to be able to showcase my sport and do what I love. I am very happy to be here," Verge said. After wrapping up her last race and earning three medals at the Games, she added, "Either way, I just really wanted to get a personal best. A medal wasn't on my mind. But just to be able to race and do so well, really means a lot to me. I am not going to cry, but I am very close."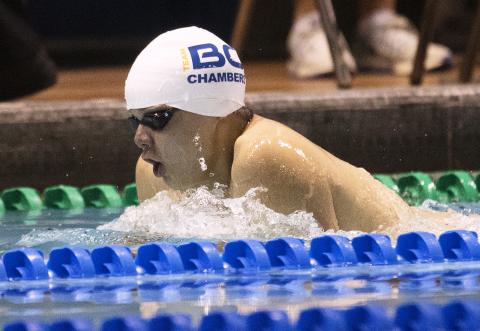 "Well it felt really amazing," said Chambers after winning silver in the SO 50m backstroke event. "I was pushing harder. The crowd is really there for me. It feels excellent."
After racing to a silver medal in her last event of the Canada Games, the SO 50m freestyle, Carlow said that was the icing on the cake of this exciting experience. "I wanted to get silver. That was my goal. I am so happy for it. It was so amazing and such a great experience and I am glad I was here."
Big thanks to SOBC coaches Angela Behn of Nanaimo, Aaron Leontowich of Kamloops, and Cathy Verge of Sunshine Coast who provided outstanding support and encouragement to the SOBC athletes in the Canada Games experience, as well as to all of the hometown coaches who helped them achieve their best in national competition!
The Special Olympics athletes also turned heads among their many teammates from generic sport. North Vancouver swimmer Raben Dommann, who won eight medals including five golds, was watching and cheering as Shade won his fifth gold medal.
"That guy is amazing," Dommann said. "I love it so much. I've never trained with Special Olympics or Para athletes before. It's really cool. Every time I watch them race, I get so pumped up, for my next race. It's incredible."

Michael Schmidt, a 14-year-old Team BC swimmer from Victoria, said training with Para and Special Olympics athletes was a new experience. "At my home club we don't have any Para or Special O athletes," said Schmidt, who won three bronze medals in Winnipeg. "It's been really cool to merge with them and have them on the team and talk with them."
Click on the athletes' names below to find their profiles plus full event times and results:
Athlete

Local

Event

Results

SWIMMING

Campbell River

Special Olympics 50m breaststroke

Gold

Time 37.88s

 

 

Special Olympics 100m freestyle

Gold

Time 1:00.33

 

 

Special Olympics 100m backstroke

Gold

Time 1:05.99*

 

 

Special Olympics 50m backstroke

Gold

Time 30.81s*

 

 

Special Olympics 50m freestyle

Gold

Time 27.48s

 

 

 

 

Kamloops

Special Olympics 50m breaststroke

6th

Time 45.81s

 

 

Special Olympics 100m freestyle

5th

Time 1:12.74

 

 

Special Olympics 100m backstroke

Silver

Time 1:19.62

 

 

Special Olympics 50m backstroke

Silver

Time 36.53s

 

 

Special Olympics 50m freestyle

Bronze

Time 31.31s

 

 

 

 

Sunshine Coast

Special Olympics 100m freestyle

Silver

Time 1:26.76

 

 

Special Olympics 100m backstroke

Gold

Time 1:40.12

 

 

Special Olympics 50m backstroke

4th

Time 46.35s

 

 

Special Olympics 50m freestyle

Bronze

Time 38.46s

 

 

 

 

Cowichan Valley

Special Olympics 50m breaststroke

5th

Time 57.83s

 

 

Special Olympics 100m freestyle

Bronze

Time 1:28.59

 

 

Special Olympics 100m backstroke

5th

Time 1:50.76

 

 

Special Olympics 50m backstroke

6th

Time 49.09s

 

 

Special Olympics 50m freestyle

Silver

38.34s

 

 

 

 

ATHLETICS

Surrey

100m Special Olympics Men

Silver

Time 11.85s (PB)

 

 

200m Special Olympics Men

Gold

Time 24.23s (PB)*

 

 

 

 

Burnaby

100m Special Olympics Women

6th

Time 14.91s

 

 

200m Special Olympics Women

5th

Time 31.65s

 

 

 

 

Surrey

100m Special Olympics Women

7th

Time 15.67s

 

 

200m Special Olympics Women

6th

Time 32.22s

 

 

 

 

Quesnel

100m Special Olympics Men

6th

Time 12.70 (PB)

 

 

200m Special Olympics Men

7th

Time 26.59s

 

 

 

 

* Canada Games Special Olympics record time

PB = personal-best time
Check out media coverage of the Special Olympics BC athletes' achievements:
Read about the impressive achievements and empowering experiences for SOBC athletes in past Canada Games: