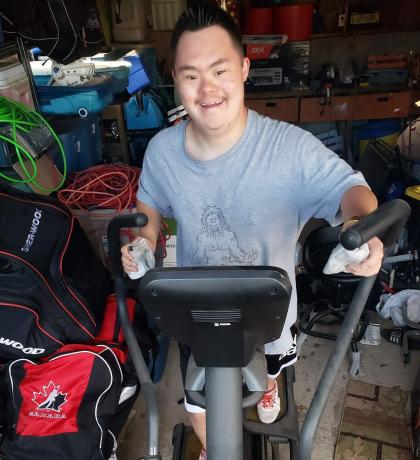 More than 300 participants from across the province raised funds and heart rates with the 2021 Virtual Law Enforcement Torch Run for Special Olympics BC. 
From June 7 to 20, runners and walkers clocked kilometres in their communities to support SOBC's empowering programs for people with intellectual disabilities. Though the pandemic prevented them from coming together in person, they came together in spirit to raise a terrific total of more than $45,000. 
SOBC – Kamloops's Shinji Matthews was one of many Special Olympics BC athletes to lace up for the event. Matthews says he got involved to support SOBC and to get exercise that will help him succeed in his sports.     
Matthews ran outside and at home on an elliptical machine, recording almost 200 kilometres during the two-week event. He also achieved his goal of raising $500 for SOBC. Matthews says he is very proud of what he accomplished during the Virtual Torch Run.  
"It made me feel good and awesome!" he said.
Matthews really enjoyed seeing social media posts from other participants, and says this content helped motivate him. 
Matthews shared photos and videos of his runs on Instagram. Many of his friends from school responded with positive and encouraging comments, and Matthews said this made him feel "really good." Some of his classmates even helped him raise funds by spreading the word on their own social media accounts.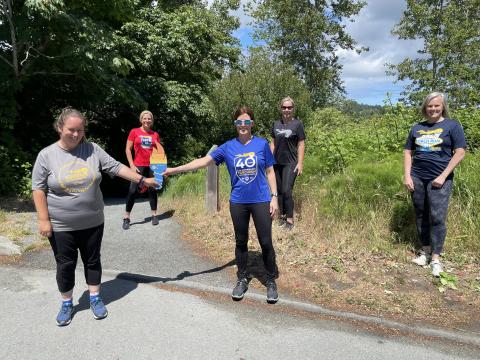 Matthews says he loves Special Olympics because it gives him opportunities to be active and make friends. He is very grateful to all the BC LETR members who do so much to support SOBC athletes.  
"It's great to have so many law enforcement people helping!"
Law enforcement members from all over British Columbia made their kilometres make a difference during the Virtual Torch Run for SOBC.  
BC Sheriff Service Deputy Sheriff Phil Lacasse ran before work each day of the event. In total, he ran 69 kilometres and walked 73 kilometres. He also raised $600, exceeding his goal of $500. 
Lacasse says he supports the Law Enforcement Torch Run because he believes in SOBC's mission of enriching the lives of people with intellectual disabilities through sport.
"Sport and athletics are very important to me. They changed my life several years ago and I am well aware of the benefits that sport and being active has on an individual," he said. 
Lacasse spread awareness for the event by posting on Twitter. Lacasse said it was inspiring to follow Special Olympics BC athletes on the platform, because he could see all the amazing things they were doing for the Virtual Torch Run and the SOBC Provincial Challenge Games.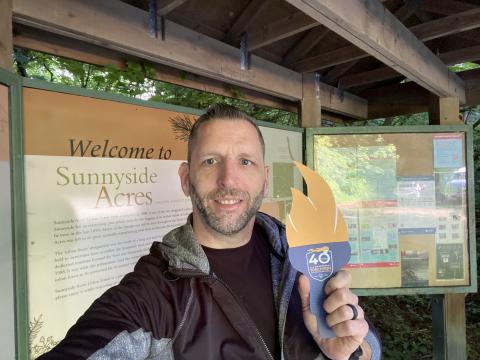 He said one of the best parts of the Virtual Torch Run was learning about the impact Special Olympics BC programs have on the lives of athletes with intellectual disabilities.  
"I expected to run and raise funds for a good cause and ended up learning so many things about what Special Olympics does for our communities and how sport improves the lives of people in ways I had not considered. I am fortunate to work for an agency that always supports me in events such as this, and I will absolutely be participating again next year," he said. 
Huge thanks to all the law enforcement members, SOBC athletes, and other participants who made the 2021 Virtual Torch Run for Special Olympics BC a big success!