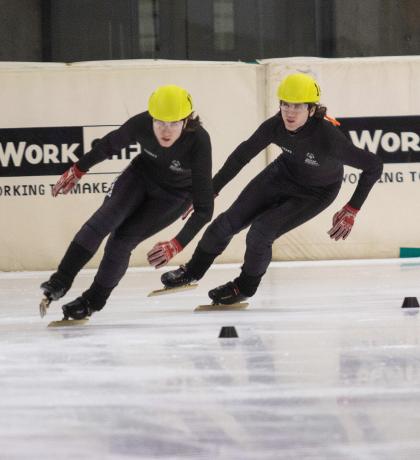 The theme of the 2020 Special Olympics Canada Winter Games is "Pure Heart." Meet a few of the many members of the Special Olympics Team BC 2020 Training Squad who are demonstrating pure heart and inspiring determination in their training for the National Games!
Special Olympics BC – Surrey's terrific Thibeault twins are a force to be reckoned with on and off the ice. Speed skaters Jesse and Zack Thibeault both qualified for the Special Olympics Team BC 2020 Training Squad through their successful racing at the 2019 Special Olympics BC Winter Games, and they have been working extremely hard in preparation to be at their best in the 2020 Special Olympics Canada Winter Games.
Zack Thibeault won gold medals in all three of his races at the 2019 SOBC Games (1000m, 1500m, and 3000m), and his goals for the National Games are to have a positive attitude and achieve personal bests in all his races. As a member of the Team BC 2020 Training Squad, Zack says, "I'm honoured to be part of a team of amazing athletes! We all achieved excellence in our sport because we were all determined to train hard and do our best."
At the 2019 SOBC Games, Jesse Thibeault achieved a gold medal in the 500m and silver medals in the 777m and 1000m, but "best of all" was the fact that he earned a personal best in the 500m. "I felt incredibly proud of my accomplishments because I didn't even know how to skate four years ago, and I really trained hard to get to the Provincial Winter Games," he says. Jesse feels that competing at National Games "means I have an opportunity to be the best that I can be on and off the ice, and to make my province and team proud."
This will be the second National Games appearance for the Thibeaults, after they showed their abundant athletics skills in the 2018 Special Olympics Canada Summer Games in Antigonish. In addition to their athletic accomplishments, Zack and Jesse Thibeault are certified Special Olympics BC Health Messengers. Please click here to watch their fabulous athlete health and nutrition informational video.
Learn more about the Thibeaults and Special Olympics Team BC 2020 at www.soteambc2020.ca