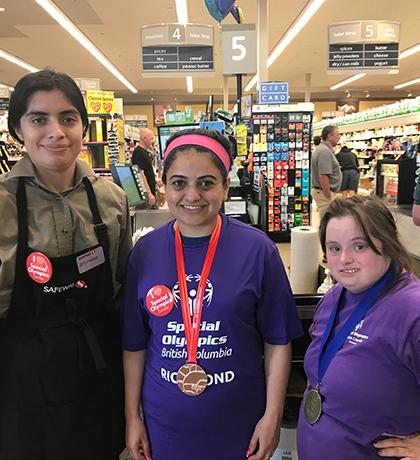 From June 20 to July 3, Sobeys Inc. made a difference with its second annual fundraising campaign in support of Special Olympics programs across Canada. In Sobeys, Safeway, Thrifty Foods, IGA, Foodland, and Urban Fresh stores across the country, staff encouraged customers to make a donation at the checkout. In total, this successful campaign raised almost $930,000.
On June 22, Special Olympics BC athletes were in more than 40 stores to meet customers and talk to them about Special Olympics. On this day, Sobeys matched all donations up to $150,000.
In some locations athletes helped employees bag customers' groceries and hand out food samples as part of the Sobeys Summer Food Fair. Some stores even hosted barbecues to support their fundraising efforts. Athletes, volunteers, and Sobeys employees across the province had a great time promoting awareness and collecting donations for Special Olympics.
In Castlegar, the athlete visit was an exciting experience for employees and customers. 
"It was amazing!" Safeway Castlegar Manager Brian Bogle said. "I spent a lot of time with the athletes just talking and joking around. It's a great experience for us, and I think the athletes enjoy interacting with the customers."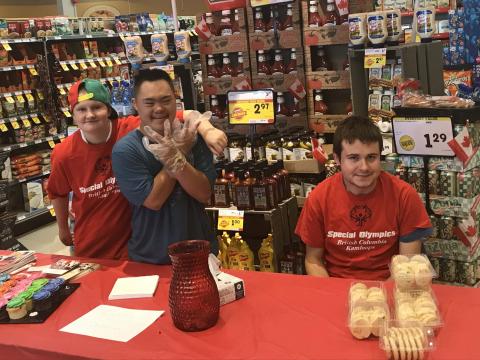 Bogle said the highlight of the day was telling the athletes how much money they raised. 
"We had one of the highest fundraising totals in B.C. for that day. We were really proud! With Special Olympics, it's absolutely the most fun that we have fundraising in the store."
A champion of inclusion in the workplace, Sobeys employs dozens of Special Olympics athletes across Canada. SOBC – Langley athlete Carey Heppner has been working at Safeway in Abbotsford for 18 years, and says the store's staff and customers were very supportive of the campaign.
Funds raised through the Sobeys campaign will help provide life-changing opportunities to athletes like Heppner. Heppner participates in bocce and bowling and says her sports help her deal with stress. She says being a Special Olympics athlete is a lot of fun, and encourages others to get involved in the organization.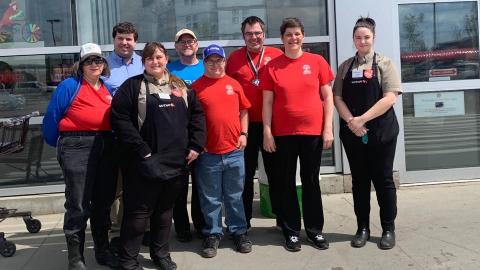 "It's fun and I love doing it," Heppner says. 
Big congratulations to the staff of Safeway Seafair in Richmond for making their location the top fundraising store in Canada! They received support from SOBC – Richmond athletes and volunteers who helped bag groceries and spoke with customers about Special Olympics. 
Heartfelt thanks to all the Sobeys, Thrifty Foods, Safeway, and IGA stores and customers across the province for their generous support of Special Olympics! We are also grateful to all the SOBC athletes and volunteers who gave their time to this campaign!