The Special Olympics movement is building the Inclusion Revolution with the Unified Generation, leading the way to a more inclusive future. We are using sport to bring people together and increase understanding of the abilities of individuals with intellectual disabilities!

Through the Special Olympics BC Youth Engagement Project, funded by the Government of Canada under the Canada Service Corps, 14 young changemakers around the province are running projects this winter that will increase inclusion in their communities.
These inspiring champions are committed to creating inclusion and respect for individuals with intellectual disabilities, as well as empowering opportunities for Special Olympics athletes. Our movement is so lucky to have them involved and leading the way to a more inclusive future! 
After kicking off the project with a summit last August, the participants have been working with the Local Committees and SOBC staff to develop initiatives in their communities. Their projects include sport events, awareness opportunities, educational events in schools with Special Olympics athletes teaching their sports to students (several following the model created by UBC student Nikol Grishin), Spread the Word>>Inclusion initiatives, and health events.
Angela Wang is an Oak Bay High School student with a desire to increase inclusion in her community, who previously volunteered with SOBC – Victoria's swim program. In Special Olympics, Wang said, she found a warm and inclusive community.
"I learned a lot about different leadership skills, and it was a very positive environment. I really enjoyed it. The athletes and volunteers really created a positive atmosphere," she said.
Wang said she has observed exclusion elsewhere in schools, as well as in generic sport lessons where people don't adapt. She wanted to make a difference for inclusion. When Wang found out about SOBC's Youth Engagement Project, she thought that would be a perfect fit. She is now organizing sessions in local elementary schools where SOBC – Victoria athletes will have opportunities to teach students rhythmic gymnastics and circuit training. 
Wang wanted to incorporate different sports and "really focus on giving the athletes different opportunities for public speaking." She has received very positive responses from the elementary schools approached. The original concept was for one day of sessions, but the schools want a week's worth of events!
"It's been very positive feedback and interactions," Wang said.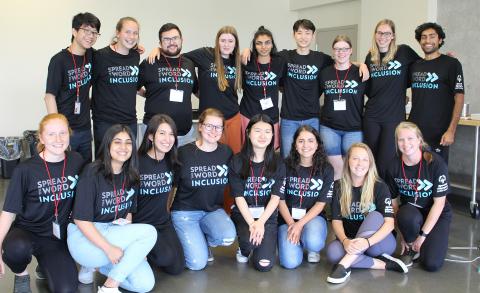 The Youth Engagement Project participants share a wonderful group spirit. As Wang said, they have similar goals of creating inclusion, but each have different ideas and backgrounds to contribute to the concept. They are able to engage in valuable brainstorming and helping each other. 
Troy Boucher is a recent SFU graduate and the SFU Autism and Developmental Disorders Lab Manager. Boucher is working with the Champions for Inclusive Health Stakeholder Coalition, and was chosen to be part of the SOBC Youth Engagement Project initiative with his vision of hosting day camps for adolescents and young adults with intellectual disabilities, where they can make new friends, learn about healthy diets and physical activity, play exciting games, engage in physical activities, and learn about the resources that are available to them and their families through Special Olympics BC.
Boucher will be hosting two inclusive sports camps at SFU on February 22 (for ages 8 to 17) and February 29 (for ages 18 and up). Boucher has also received a Special Olympics International Youth Innovation Project grant to help further fund his project. Please click here to read more about his initiative and find registration forms!
Megan Owens and Rachel Simes are running in-school sport and awareness events in Chilliwack to create inclusion and leadership opportunities for Special Olympics athletes, as well as raising awareness about Special Olympics. Follow their exciting initiatives on Instagram at @inclusionrevolutionsports! 
Bremiella De Guzman is hosting an inclusion pledge booth at Surrey's Guildford Town Centre on February 23. 
Ronak Sheiki is planning high school hockey events involving SOBC athletes in March at St. Michael's University School. 
Cassandra Thummerer is organizing A Splatter of Inclusion Colour Run/Walk, which will be a super-fun event on March 7 in Prince George's Lheidli T'enneh Park raising funds and awareness for SOBC – Prince George.
Pavneet Kalsi is a UBC student and also the Events VP of Best Buddies UBC. Kalsi is working with SOBC – Vancouver and Best Buddies UBC on several exciting projects where they hope to bring together athletes from SOBC and buddies from UBC, volunteers, and staff so they can collaborate moving forward
Sincere thanks to all of these inspiring young champions of inclusion, to all the athletes and volunteers supporting them and their projects, and to Government of Canada through the Canada Service Corps for funding this important initiative. 
Youth Engagement Project participants:
Fraser Valley Region: Anneke Cairnie, Bremiella De Guzman, Megan Owens, James Shi, Rachel Simes, Arshia Uppal
Fraser River-Delta Region: Troy Boucher
Vancouver-Squamish Region: Ishita Agarwal, Calista Chau, Avery Lane, Pavneet Kalsi
Vancouver Island Region: Ronak Sheikhi, Angela Wang 
Cariboo-North East Region: Cassandra Thummerer