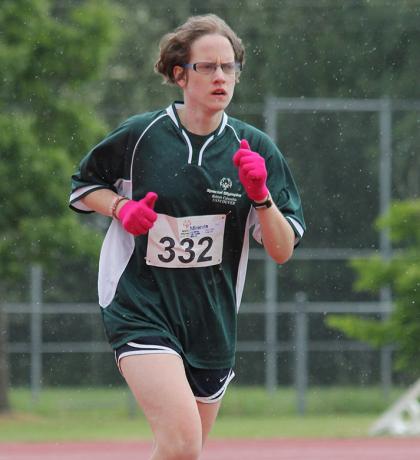 In 2022, Special Olympics BC Locals around the province are working hard to host 2022 Winter Regional Qualifiers and SOBC Super Summer Series competitions. All events follow SOBC's strong Return to Sport safety protocols.
Athlete Reporter Miranda Orth of SOBC – Nanaimo is looking forward to getting back into competitions. Read her thoughts on why competition matters!
Special Olympics will be sure busy in 2022 with the Regional Qualifiers for winter sports like alpine skiing and competitions for summer sports like track and field. This will be exciting, as it is happening just a few months after we started the return to in-person sports practices!
I enjoy competing in sports like track and field because I am doing the competition against athletes from another team in my division and knowing what my personal-best time will be after the race.
When competing, I feel like I am in a race often trying to always get a new personal-best time, even with hard work at training I did for the competition. 
My main goal in general is to keep doing long-distance running. For my next competition, my goal is to beat my current 5km time of 25 minutes from 2019, and get to maybe 20 minutes for that race. Also, another goal is maybe working towards doing a 10km race, as I'm interested in doing one as a Special Olympics race. The goals for 5km and 10m would be done of course with lots of training involved!
Athlete Reporter David Johnston of SOBC – Dawson Creek has been participating in SOBC programs and competed with pride in the 5-Pin Bowling Regional Qualifier for Region 8. He interviewed SOBC – Fort St. John Levi after their curling teams competed against each other.
David: "Levi, how did you feel without your in-person Special Olympics programs?"

"Without the in-person programs, we didn't have them because of COVID going on, I felt sort of disappointed really, because it's our life, it's fun, we love to do it. We go to competitions for it."
David: "What was it like at your first practice back?"
Levi: "At the first practice back for Special Olympics curling, it was a little iffy at times, but we got the hang of it! It was great to get back on the ice practicing, throwing rocks, sweeping - it was great."
David: "How were your teammates and coaches acting at practices?"
Levi: "Coaches and teammates were great. They did everything right. Everybody's looked good so far."
David: "How did you and your teammates play?"
Levi: "We all have our ups and downs of curling - but we got through it, we worked through it. Our coach helped us with what to work on."
David: "Please tell me about your favourite Special Olympics sport. What is your favourite sport that you do?"
Levi: "Probably bowling, because I've done it for 18 years now. I think this is my third year now in Special Olympics. The people that you bowl against are super friendly, they take it seriously, it's competitive."
David: "How do you feel when you're doing it?"
Levi: "I'm happy. It's nice to lace up your shoes and get a few balls thrown."
David: "What do you like most about Special Olympics overall?"
Levi: "That's a hard one! Special Olympics altogether is good. Special Olympics representatives are friendly and they're super respectful of the athletes in general."
Huge thanks to Miranda, David, and Levi for their time and perspectives!
Join them and register for SOBC programs
Find Return to Sport safety info