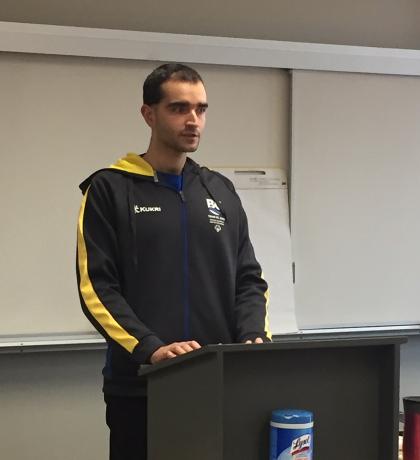 Article from March 23, 2020
Through Special Olympics Athlete Leadership courses, athletes build skills to help them share their stories, inspire change, and lead our province. Special Olympics BC is collaborating with Chapters across Canada to offer online training opportunities. 
Please tune in SOBC's Facebook Page to watch athlete leaders inspire on Facebook Live twice a week: workout and wellness challenge launch shows Mondays at noon PT, and What's On Your Mind Wednesdays at 2 p.m. PT. Please come share your thoughts! And please click here to find links to past shows.
Please stay tuned to SOBC's website and social media for more information on upcoming online Athlete Leadership training.
When normal operations resume, SOBC will continue hosting in-person Athlete Leadership courses in Regional events around the province. 
Course offerings include the new Athlete Input Council training, which gives athlete leaders the tools to help their Locals and our province with their leadership. We also offer courses on public speaking (Athlete Speakers Bureau) and training for Athletes as Program Mentors, Health Heroes, Health Messengers, Athlete Reporters, dealing with bullying and harassment, and more.
Earlier this year, Special Olympics BC athletes in Region 2 excelled in Athlete Leadership courses in Kelowna – please see below for the full list of amazing athletes who completed the courses, with support from their dedicated volunteer mentors. The athletes shared their valuable thoughts and developed skills through Athlete Speakers Bureau 1, Health Heroes, and Athlete Input Council training.
SOBC – Kamloops athletes Travis Burkett, Megan Gourley, and Kent Plettl completed the Athlete Input Council training so they can help their Local and our province. Plettl commented that the AIC training and format helps give athletes a voice, and makes them feel important. 
Burkett said he appreciated "the fact that we actually get the chance to decide on things, and we get it with respect." Gourley said it helps athletes get together and "have their own voice, to give their own opinion."
In the Health Heroes course, the athletes participated with enthusiasm and great interest. They discussed and developed skills to advocate about proper hand washing, hydration, nutrition, and exercise. 
We also want to send a big shoutout to the SOBC – Abbotsford athlete leaders who completed their Athlete Input Council training in late 2019, and have been doing a wonderful job as a group to bring forward ideas and help resolve issues. Please see below for their council members! And follow them on Instagram @sobcabbotsford!
There are several upcoming Athlete Input Council training sessions in the works in the Lower Mainland, and another was being planned for Region 6 that will be reorganized when health circumstances allow. 
Athlete Leadership opportunities are open to all Regions. Locals are asked to contact Chelsea Rogers, SOBC Community Development Coordinator and Athlete Leadership manager, if you would like to offer training in your Region. Please contact Chelsea by email or on cell at 604-802-4226. 
Huge thanks and congrats to these athlete leaders and volunteer mentors! Thank you for stepping up to share your wisdom and important leadership! 
ATHLETE

MENTOR

LOCAL

Region 2 ASB 1 & Health Heroes

Chris Harrington

Leanne Kelly

Kelowna

Joanna Morris

Leanne Kelly

Kelowna

Kassidy Rutledge

Kim Rutledge

Kelowna

Maria Schmitke

Sue Foisy

Kelowna

Danny Sperling

Matt Ficocelli

Kelowna

Roy Stephens

Sue Foisy

Kelowna

Josh Trudell

Jane Raggatt

Kamloops

Tony Wilkinson

Chelsea Dyck

Kelowna

 
 
 

Athlete Input Council Kamloops

Travis Burkett

 
 

Megan Gourley

 
 

Kent Plettl

 
 
 

Sarah Raggatt

 
 
 
 

Athlete Input Council Kelowna

 

Chris Harrington

 
 

Joanna Morris

 
 

Kassidy Rutledge

 
 

Maria Schmitke

 
 

Danny Sperling

 
 

Roy Stephens

 
 

Tony Wilkinson

 
 
 

Niki Kandola

 

Thanks Sue Foisy for supporting the training!

 
 
 

Athlete Input Council Abbotsford

 

James Clifford

 
 

Justice Erickson

 
 

Sam Hall

 
 

Katie Marchbank

 
 

Thomas Marsh

 
 

Paige Norton

 
 

Robyn Styles

 
 
 

Edna Clifford