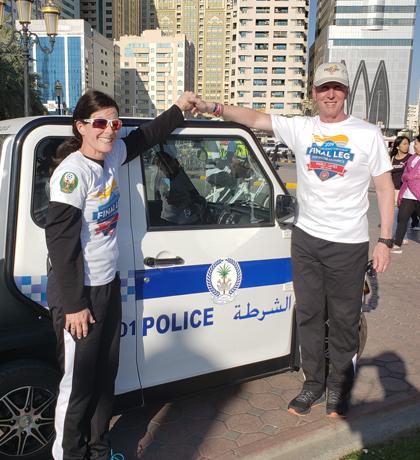 Two law enforcement members from B.C. helped kick off the 2019 Special Olympics World Summer Games – and they say it was an honour and a very rewarding experience.    
From March 3 to 14, Metro Vancouver Transit Police Deputy Chief Officer Barry Kross and Oak Bay Police Department Constable Sheri Lucas proudly participated in the 2019 Law Enforcement Torch Run Final Leg for the World Games in Abu Dhabi and Dubai. The two LETR for Special Olympics BC members joined an international team of runners, carrying the Flame of Hope through all seven emirates of the United Arab Emirates and into the Opening Ceremony. This historic 10-day journey marked the first time the Flame of Hope had come to the Middle East.
Read about members of Special Olympics Team Canada 2019 from B.C.
 
What was it like to take part in this event?
Deputy Chief Officer Kross: Taking part in the Final Leg for the 2019 Special Olympics World Summer Games is absolutely one of the most memorable events of my life. Seeing the impact of the Final Leg and Special Olympics on the world stage is beyond compare. 
Constable Lucas: The LETR Final Leg is one of those experiences I will never forget. To be a Guardian of the Flame and to run the Flame of Hope through a new country was amazing. It is awe-inspiring how big the movement really is and how many athletes benefit from something we love to be a part of. It reinforced how much the LETR efforts have helped to change world views on those with intellectual disabilities and promote the important message of inclusion and acceptance.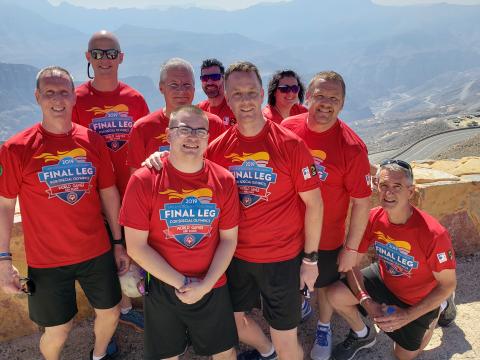 What was the most memorable moment from the Final Leg? 
Deputy Chief Officer Kross: I have a ton of great memories of the Final Leg, but the most memorable moment was actually an impromptu game of beach volleyball that occurred during one of the few free afternoons that we had. The teams consisted of Special Olympics athletes and police officers. The game lasted for about two hours and was a great opportunity for us all to bond as teammates without labels attached. We were just a bunch of friends playing volleyball on the beach. Nobody had any great skill as a beach volleyball player, which added to the fun of the event. Lots of laughs, high-fives, and fun ribbing each other throughout the game, as we all tried to jump in the sand and dive to hit the ball over the net. The athletes all said that this was one of the best memories that they had to date on the Final Leg, because we all played together as a team and just had fun. 
Constable Sheri Lucas: There were two memorable moments for me. The first was having the honour of our team being chosen to run the Flame of Hope through the Presidential Palace in Abu Dhabi, witnessing His Highness Sheikh Mohammed bin Rashid Al Maktoum (Vice President and Prime Minister of the UAE and the Ruler of Dubai) and His Highness Sheikh Mohamed bin Zayed Al Nahyan (Crown Prince of Abu Dhabi and Deputy Supreme Commander of the UAE Armed Forces) light the cauldron. The second was being present and part of the excitement of the 2019 Special Olympics World Summer Games Opening Ceremony. The chill I felt in the stadium, standing with over 40,000 people watching 7,500 athletes enter the stadium with so much pride is something no one ever forgets.

What was it like to do the run with athletes and law enforcement members from around the world?
Deputy Chief Officer Kross: Meeting other athletes and law enforcement officers from around the world was a great opportunity. From the athletes, I found that I gained a greater appreciation for the lives that they live. Some are working part time or full time for employers who see the value of having employees with intellectual disabilities embedded into those workplaces, while others are going to school, striving to meet another personal goal. Their stories were both moving and inspirational at the same time. 
From the other law enforcement officers, I had the opportunity to share ideas on fundraising and to hear how they have all embraced Special Olympics into their professional and personal lives. 
Constable Sheri Lucas: It is always amazing to be with a group of people from all around the world with the same mission, goal, and values. The positive energy that followed us everywhere we went was contagious. Police officers deal with so much tragedy and negativity in the world that it is so great to be a part of such a huge positive movement.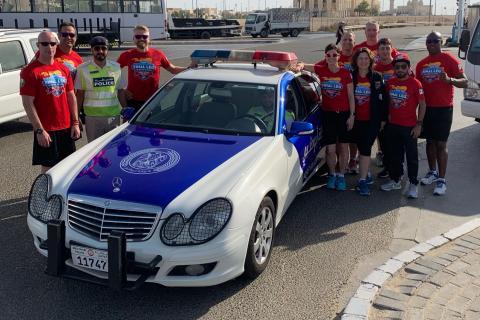 How did it feel to represent B.C. and your agency during the Final Leg?
Deputy Chief Officer Kross: I was very proud to represent B.C. and the Metro Vancouver Transit Police at World Games. Knowing that I was part of a team of officers, bringing awareness of Special Olympics to another part of the world, was extremely energizing and fulfilling. 
Constable Sheri Lucas: I was very humbled to have been chosen as a Team Leader and honoured to be one of five Canadian police officers to be part of the 2019 Final Leg family. There are so many officers in B.C. that give so much time to this movement that I count my blessings to have been given this opportunity and am very blessed to have been introduced to this movement 21 years ago.
 
How will this experience affect your relationship with Special Olympics going forward?
Deputy Chief Officer Kross: I have been committed to raising awareness about Special Olympics, and to fundraising to support programs for many years. Taking part in the Final Leg has only served to increase my commitment and has caused me to consider what more I can do now and how I can continue to support Special Olympics after retirement. 
Constable Lucas: Being part of the Final Leg team only reinforced what I already knew, that the LETR does make a difference in the lives of Special Olympics athletes and the movement is working. It is our job to continue to push the movement forward, push for acceptance and inclusion, and show our communities how much we can learn from these athletes – as the UAE called them, "The Determined".