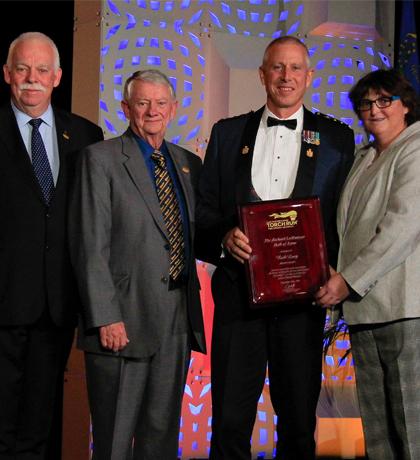 The Law Enforcement Torch Run for Special Olympics BC plays a critical role in raising funds and awareness for SOBC. In November, two inspiring BC LETR leaders received prestigious awards in recognition of their hard work and dedication in support of the Special Olympics movement.   
On November 10, BC LETR Provincial Director and retired Abbotsford Police Department Deputy Chief Constable Rick Lucy was inducted into the LETR Richard LaMunyon Hall of Fame. On November 29, Metro Vancouver Transit Police Interim Chief Officer Barry Kross received Special Olympics Canada's Rob Plunkett Law Enforcement Torch Run (LETR) Award.
BC LETR Provincial Director Rick Lucy
The Richard LaMunyon Hall of Fame celebrates individuals who have demonstrated a sustained and significant contribution to the LETR and Special Olympics at the local, national, and international levels. Named for the founder of the Law Enforcement Torch Run, it is the most prestigious award in the LETR community. 
Lucy was surprised and honoured when his induction was announced at the LETR International Conference in Las Vegas.
"This LETR and Special Olympics involvement, it's not just a highlight of my policing career, it's been a highlight of my life," Lucy said to conference attendees.  
The Regional Coordinator for Region XI (Canada) on the LETR International Executive Council, Lucy shared a valuable piece of advice he received when he got first got involved with the LETR. 
"Just remember, it's all about the athletes." 
A member of the SOBC Board of Directors and a recent inductee to the SOBC Hall of Fame, Lucy ran in the very first LETR event in B.C., from Calgary to Vancouver, to open the 1990 Special Olympics Canada Summer Games. Since then, he has helped support Special Olympics through numerous fundraising events and competitions, including chairing the Games Organizing Committee for the 2009 SOBC Summer Games in Abbotsford, joining Team BC as a mission staff member for the 2010 Special Olympics Canada Summer Games in London, Ontario, and running in the Final Leg that kicked off the 2015 Special Olympics World Summer Games in Los Angeles. 
"He motivates me to continue my journey with the LETR and SOBC with his message, passion, support, and positivity in being an ambassador for the Torch Run and SOBC," says BC LETR Executive Council member and Vancouver Police Department Inspector Joanne Wild.
Interim Chief Officer Barry Kross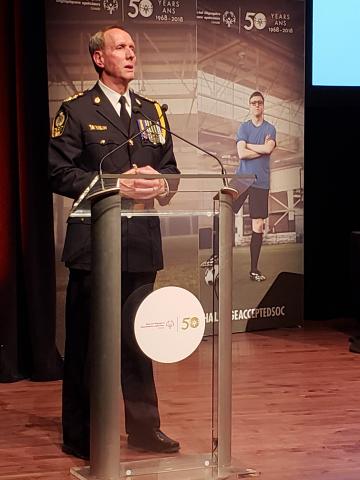 Chief Kross received the Rob Plunkett Law Enforcement Torch Run Award at the Special Olympics Canada 2018 National Awards Night in Toronto. The award is presented to the LETR representative who best exemplifies the spirit, philosophy, dedication, and goals of the Law Enforcement Torch Run and Special Olympics. 
As he accepted the award, Chief Kross told the crowd about his LETR experience – and how the more he gets involved with Special Olympics, the more rewarding the experience has become.   
"I really do echo what others have said here tonight, that the true benefit really is back to ourselves – what we learn about ourselves, what we learn about how we should be really treating each other," Chief Kross said. 
Chief Kross said he was recently taking to the mother of a child with an intellectual disability, and the mother told him something he finds inspiring.  
"I wouldn't change my son for the world, but I would change the world for my son." 
Chief Kross is a longtime Law Enforcement Torch Run member and serves on the BC LETR Executive Council. He is a strong ambassador for Special Olympics within the B.C. law enforcement community, and he has worked hard to develop the LETR programs at the Metro Vancouver Transit Police and Vancouver Police Department, where he previously served. 
Chief Kross has played important roles in organizing the highly successful Metro Vancouver Transit Police Charity Golf Tournament, encouraging Transit Police participation in Lower Mainland LETR events, and promoting respect and inclusion in his community through the Spread the Word to End the Word campaign.
"Chief Kross is an amazing leader who has done so much to build the profile of Special Olympics within the law enforcement community," says Dan Howe, SOBC President & CEO. "He is truly a champion of the organization and has made such a difference."
Congratulations to Barry and Rick – and thank you for all you do for SOBC!