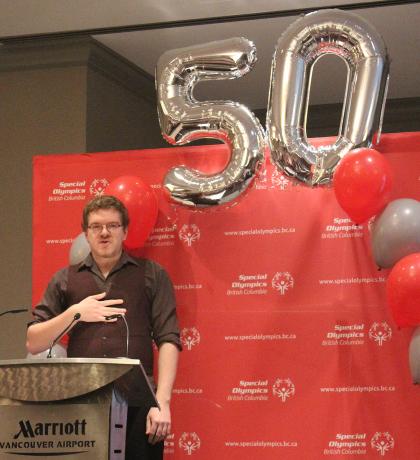 The Special Olympics Canada Athlete Leadership Council includes members from almost every single province and territory, who provide essential athlete insights to guide the Special Olympics movement in Canada. Formed in 2017, the council helps ensure Special Olympics programs are run not just FOR athletes, but WITH athletes. 
Special Olympics BC – Comox Valley athlete Jake Hooper is our province's excellent representative, and he participated in the last council meeting on November 30 and December 1. In that meeting, the athlete leaders shared their insights on essential Special Olympics Canada policies, as well as on sport participation and sports offered across Canada.
They told SOC what sports they currently do, what sports they and the athletes in their province or territory would like to see added to Special Olympics Canada, and barriers to participation that exist for certain sports (such as transportation, medical issues, facility access, and lack of support). 
They also expressed their thoughts on what makes a good coach, helping inform coach development work, and on how to get athlete feedback to evaluate National Games.
Their feedback is being taken to the Special Olympics Canada Leadership Council, Sport Council, and policy development committee to guide future discussions.
In addition to providing guidance for Special Olympics Canada, the athlete leaders discussed ways they can fundraise in their Chapters, and shared their own activities and communications within their provinces and territories.
The CALC members also gave feedback to researchers from the Holland Bloorview Kids Rehabilitation Centre, who are working on a study about athlete wellness with the goal of promoting wellness across Special Olympics programs. The most important things that the athlete leaders wanted the researchers to know about Special Olympics and athlete wellness were:
Self esteem
Passion
Inclusion!
Because it's a family setting
Trying my best
Be positive
Respect
Having fun
Training + competition in their sports to make them healthier
Getting my first shut out in soccer made me proud
Being creative
"I feel the CALC went really well," Hooper wrote in an email. "We had a few athlete-led topics that talked about our role as the Athlete Representative, fundraising ideas, and a new idea to get the word out, an Athlete Newsletter! We learned, as an Athlete Leader, how to improve not only our province, but Canada as a whole! 
"We also had two new representatives join, one from Quebec and one from Saskatchewan, bringing us to 11 out of 12 possible representatives from across Canada. … Overall the CALC went very well and I was excited to meet all the athlete leaders again, listening to what everyone had to speak about during the meeting. One of the best things was that we didn't get snowed in at Toronto! :) I look forward to our next face to face meeting sometime in the new year!"
SOBC athletes can convey their insights and opinions on national issues by emailing Jake Hooper at jakehoopersobc@gmail.com. Hooper was selected as SOBC's representative on the CALC after successfully completing SOBC Athlete Leadership programs and sharing his insights in a range of governance events. 
Through Athlete Leadership programs, athletes develop the skills and abilities to lead through a range of roles, including public speaking, participating on Local Committees and Athlete Input Councils, and assisting as fundraising and program volunteers. These programs are proven to have a lasting benefit to participants by increasing confidence and self-esteem, and a lasting benefit to Special Olympics as these athlete leaders provide invaluable insights to shape the movement.
To expand Athlete Leadership program opportunities available throughout the province, in 2020 SOBC will be offering regional or local Athlete Leadership workshops instead of one central provincial event. Many of these events will focus on delivering the new Athlete Input Council training, to help athletes provide essential feedback to their Locals and Regions.
Athlete leaders will also be encouraged to take SOBC's anti-bullying workshop, to help them lead the way to ensuring a safe and fun environment for everyone.
Plans for regional workshops are taking shape around the province, and more information will be coming out in 2020. To express your interest or learn more, please contact SOBC Community Development Coordinator Chelsea Rogers by email or by phone at 604-802-4226 / 1-888-854-2276 toll-free.