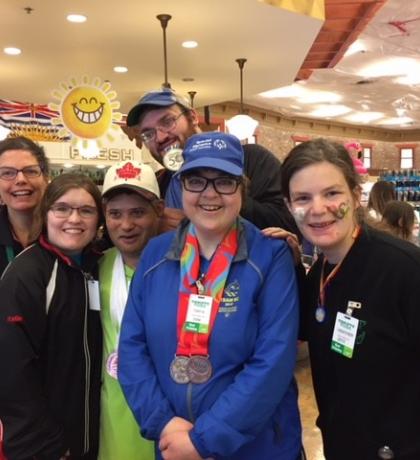 Since 2016, the Sobeys Inc. Better Food Fund has been a proud national sponsor of Special Olympics Canada. Through this partnership they are empowering Special Olympics athletes throughout the country to eat better, feel better, and do better both on and off the field. 
In 2018, Sobeys launched Better Food Nutrition Sessions, which focus on tools and tips to make healthier food choices while bringing together employees, athletes, volunteers, families, and caregivers. Sobeys representatives delivered a Better Food Nutrition Session at the Special Olympics BC Athlete Leadership Conference held in April, which was well-attended and received by SOBC athletes. 
Gary Davies, Human Resources Manager for Sobeys West, said they were excited for the opportunity to participate in this year's Athlete Leadership Conference. He said Sobeys is passionate about food and it's something they celebrate.
"Our mission is to bring better food to Canadians by helping them eat better, feel better and do better," Davies said. "This is why we are so excited about our partnership with the Special Olympics because this is exactly what we are speaking about during these presentations."   
Davies said he enjoyed the opportunity and was impressed with the athlete's engagement.
"Everyone was having fun, learning and laughing at the same time, coaches included."
This summer, Sobeys was the co-presenting sponsor of the 2018 Special Olympics Canada Summer Games in Antigonish, Nova Scotia. Here, Sobeys sponsored a mussel bake on the beach for athletes, made sure athletes and volunteers were fuelled with healthy meals and snacks, and organized energetic cheer squads to keep spirits high. 
From September 13 to 23, Sobeys held their first-ever national check-stand fundraising campaign in support of Special Olympics. In Sobeys stores throughout the country, including Safeway and Thrifty Foods, customers were encouraged to make a donation to Special Olympics at the checkout, helping to raise $708,000 for Special Olympics programs across Canada. 
As part of this national campaign, athletes and volunteers were invited into Sobeys stores on September 15 for their Fall Food Fair. This event was centered on the theme "Eating like an athlete" and focused on healthy meal and snack solutions for on-the-go athletes and families. 
We are so grateful to Sobeys for supporting Special Olympics and their dedication to improving the health of athletes across the country!