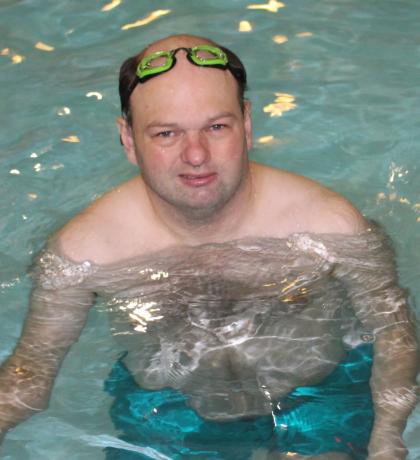 Special Olympics BC – Terrace athlete Jess Hansen inspires people around him with his hard work and positive attitude. 
"He's an amazing individual," his mother Sheila Bradford says. "He never stops trying and he taught me to never stop trying."
When Hansen was young, doctors and other experts told him that because he has a disability, he wouldn't be able to participate in many activities, such as riding a bike or a horse. Hansen never gave up, and now not only can he do many of the things he was told he wasn't capable of, he has become an accomplished athlete, dedicated volunteer, and valued member of his community.
"I'm proud of the person he is," Bradford says. "He is accepting of all people and caring of all people."
Hansen has been an SOBC athlete for more than 20 years and participates in 5-pin bowling, curling, and swimming. He says Special Olympics is important to him because it allows him to try new things and meet new people.
Hansen also appreciates that SOBC gives him opportunities to travel. Jess is very excited to go to Nova Scotia next month to compete in swimming at the 2018 Special Olympics Canada Summer Games as a member of Team BC. Hansen has never been to the East Coast, and he is looking forward to experiencing a new place, meeting athletes from across the country, and trying his best in his events.
Currently, Hansen is training in the pool four times a week to prepare for National Games, and he says his hard work is paying off. 
"I feel pretty good and I'm starting to get in good shape," he says. 
Read this Terrace Standard article to learn more about Hansen's training regime 
Hansen is a kind, helpful, and respectful individual, and he loves volunteering in his community. This includes helping out with SOBC – Terrace's fundraising efforts, which he says makes him "feel really good."
A generous and diligent volunteer, Hansen was honoured with the Sovereign's Medal for Volunteers early this year for his work with the NorthWest Therapeutic Riding Association, which provides therapeutic riding to people with various types of disabilities.
While winning the award was a big achievement, Bradford says many people in town don't know about it because Hansen is very humble and doesn't talk about it very much.   
Hansen rides horses for fun and in competitions. He also has a job where he shoes horses and another job where he works at a stable. Bradford says the combination of these jobs and Special Olympics have helped Hansen excel. Bradford says Hansen has got to spend time with supportive people who have provided him with meaningful opportunities and encouraged him to pursue his goals.
Going forward, Hansen plans on continuing to train hard for the 2018 Special Olympics Canada Summer Games. He can't wait to compete in the pool, and he has a calendar on his iPad that he uses to count down the days until he leaves for Nova Scotia. Hansen's family members are also very excited and will travel out to Antigonish to see him give his all.