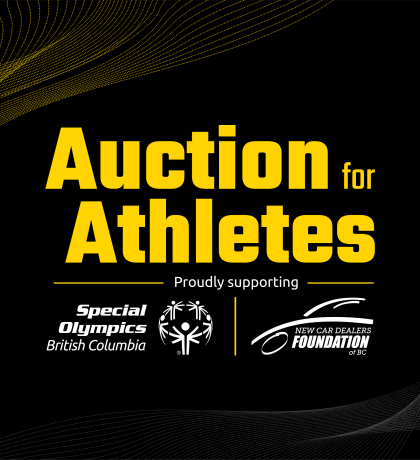 The online auction that raises vital funds for the New Car Dealers Foundation of BC and Special Olympics BC has a brand-new name and look. 
The longtime event is now known as the Auction for Athletes, sporting an eye-catching new look that will turn heads and expand reach to make a difference for our two charities. While this annual fundraiser has a fresh coat of paint, under the hood is the same high-performance engine that's been changing lives for more than three decades.  
Previously known as the New Car Dealers Foundation / Special Olympics BC Auction, the event supports Special Olympics BC's empowering programs for athletes with intellectual disabilities, and the foundation's grants and scholarships for automotive industry programs.
The 2022 Auction for Athletes will run from March 31 to April 5.
Last year's auction event a record $215,000. New Car Dealers and supporters steered the auction to success by donating more than 280 auction items, making cash pledges, soliciting donations, and bidding on items.
"The 2021 auction was particularly important because it showed that even during times when we all are faced with extra challenges in our lives, we all came together as an industry to continue to show our unwavering support for this important cause. It demonstrates that we all have the ability to make a big difference in the lives of Special Olympics athletes, and show them how much we care," New Car Dealers Foundation of BC past chair Heather Headley said.
The success of the 2021 auction meant a lot to Special Olympics BC athletes across the province. Many SOBC athletes knew the pain of loneliness long before COVID-19, and the pandemic has intensified their isolation. Funds raised in the auction are helping to restart the programs SOBC athletes rely on for sport, health, skill building, and most of all, friendships.
"For me, personally, Special Olympics really has made a huge impact in my life, and without you supporting us, I wouldn't be who I am today!" SOBC – Surrey athlete Susan Wang said.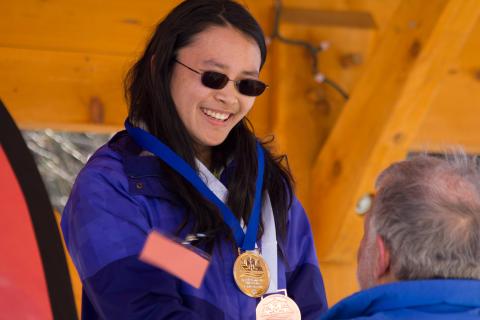 British Columbia's automotive community has a long, proud history of making a difference through this auction. 
The event started in 1987 as the Casino Auction in support of Special Olympics BC. Held at Canada Place, the inaugural event saw more than 800 people take part in a fun night of games, festivities, and an exciting auction to raise funds and awareness for Special Olympics.
Chaired by automotive community leader Sherrold Haddad, the first event was a great success, raising 50,000 to support the development of Special Olympics programs in British Columbia.
Following this accomplishment, the auction became an annual event. As times changed, the auction grew and changed too. In the late 1990s, seeking to expand the auction so that dealers outside the Lower Mainland could participate, the dinner/auction began the transition from an in-person event to the online auction it is today. This transition began under the leadership of committee chair Tom Harris, a great champion of Special Olympics, who sadly passed away in 2017. 
The auction has played a critical role in helping Special Olympics BC grow from two weekends of games with about 500 participants, to involving more than 5,200 athletes in 55 communities around the province. 
We are very grateful to everyone who has made this event such a success, and we look forward to continuing the tradition with the Auction for Athletes in 2022! To learn more, please visit www.auctionforathletes.com