Congratulations to Special Olympics BC – Coquitlam volunteer Sheila Hogan, SOBC – Victoria athlete Michael Langridge, SOBC – Abbotsford coach Tom Norton, and SOBC – Kelowna athlete Kelsey Wyse, who all recently received awards in recognition of their outstanding achievements. 
A dedicated volunteer who has played an important role in the growth of her Local, Hogan is the winner of the 2019 Sport BC Presidents' Award for SOBC. Presidents' Awards are presented annually to volunteers from Sport BC member organizations who demonstrate the spirit of volunteerism, and whose dedication, energy, and commitment contribute to the growth of their sport or organization. Hogan received her award in a ceremony on March 13.
As SOBC – Coquitlam's longtime Local Coordinator, Hogan has worked tirelessly to ensure the Local is functioning at the highest level and athletes are receiving the best opportunities possible. A supportive and respected leader, Hogan recently served as Chef de Mission for Region 3 at the 2019 SOBC Winter Games in Greater Vernon.
 Langridge was awarded a Medal of Good Citizenship at a ceremony in the Legislative Assembly of British Columbia's Hall of Honour on January 30. The Government of B.C. awards the medals to outstanding citizens in recognition of their generosity, service, acts of selflessness, and contributions to community life.
A strong leader and role model, SOBC – Victoria's Langridge has strived to create positive change in his community. Langridge's brother, a member of the Canadian Forces, suffered post-traumatic stress disorder and took his own life. As a result of this, Langridge has worked with the Royal Canadian Legion to raise awareness of issues related to PTSD. Langridge has also served in important roles with People First of Canada and Community Living BC, organizations that support people who have disabilities. An inspiring athlete and valued teammate, Langridge was the recipient of SOBC's 2018 Athletic Achievement Award.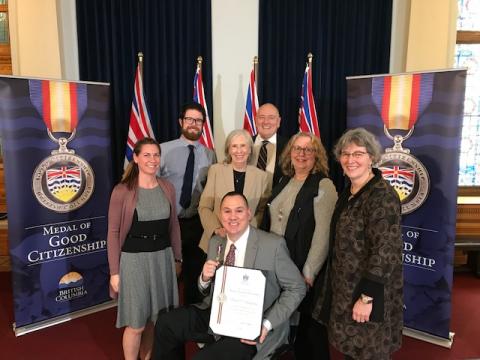 A Staff Sergeant with the BC RCMP, Norton was invested into the Order of Merit of the Police Forces by Governor General Julie Payette. The honour recognizes conspicuous merit and exceptional service by members and employees of Canadian police forces whose contributions extend beyond protection of the community. The ceremony took place at Rideau Hall on January 30. 
Norton is a highly respected SOBC – Abbotsford coach who is known for his exceptional sport experience, outstanding rapport with athletes, and dedication to Special Olympics. Norton has coached at Provincial, National, and World Games, and is currently a Special Olympics Team Canada 2019 athletics coach at the 2019 Special Olympics World Summer Games in Abu Dhabi and Dubai. Norton was the winner of SOBC's 2015 Howard Carter Award and was Special Olympics North America's 2015 Coach of the Year. He got involved with the Special Olympics movement almost 30 years ago as a member of the Law Enforcement Torch Run, and he continues to support the BC LETR. 
A highly accomplished SOBC – Kelowna swimmer, Wyse received a 2019 Community Sport Hero Award at a reception held by the City of Kelowna and PacificSport Okanagan on February 6. These awards honour volunteers, athletes, and service providers for their outstanding contributions to sport in the Okanagan sport community. 
Wyse is currently a member of Special Olympics Team Canada competing in swimming at the 2019 Special Olympics World Summer Games. She also represented her country in the 2015 Special Olympics World Summer Games in Los Angeles, winning one gold and two silver medals. She qualified for the 2019 World Games through her outstanding performance as a member of Team BC 2018 at the 2018 Special Olympics Canada Summer Games in Antigonish, Nova Scotia, where she won three gold medals. 
If you know of an SOBC member recognized with an award, please share the news with SOBC's communications team via megan@specialolympics.bc.ca or 604-737-3077.