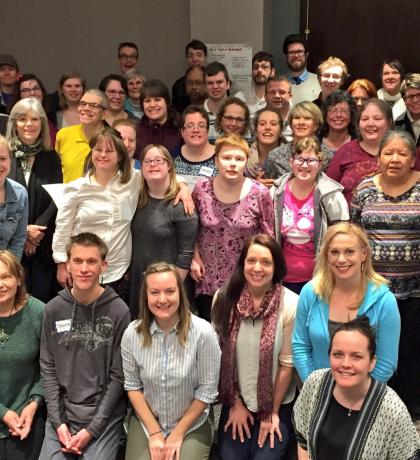 Skills, valuable perspectives, and inspiring stories were on display at the Special Olympics BC Athlete Leadership Conference April 1 to 2 in Richmond, with 68 amazing athletes and more than 40 volunteer speech coaches and facilitators from all over the province.
The participants from 30 Locals worked on public speaking and leadership skills in the event's Athlete Speakers Bureau 1 and 2 courses, Governance workshop, and Health Heroes training.
Athlete Speakers Bureau courses help train athletes to write and deliver speeches about their stories and Special Olympics experiences. Athlete Speakers Bureau 1 featured 24 fabulous athletes who were new to Athlete Leadership, while Athlete Speakers Bureau 2 involved 13 dedicated speakers, many of whom had completed ASB1 the year before and did a great job bringing their previous experience to the table to help build their skills to the next level.
The volunteer speech coaches were wonderfully involved, providing lots of encouragement and supporting the athletes to develop their speeches and skills on their own. 
The Governance track teaches skills to help athletes be part of leadership groups and gives athletes opportunities to share their valuable perspectives on key issues facing Special Olympics. This year's Governance group included a great mix of athletes who are currently serving on Athlete Councils and/or as an Athlete Representative on their Local Committee, and athletes who are new to the practice, from Locals looking to build athlete leadership. All brought excellent ideas and opinions to the table for valuable conversations in the session.
A new Health Advocates session was added to Special Olympics BC's Athlete Leadership course offerings this year. Thirteen athletes from seven Regions came together to discuss health and wellness topics and look at how they can become an advocate for healthy living in their community. We were honoured to have athlete Nathan McClain and Camie Powell from Special Olympics Arkansas attend the session and have McClain share his experience as a health advocate in his state.
Health Heroes training is another recent addition to SOBC's Athlete Leadership training, first introduced in 2016, presented with the support of Golisano Foundation Special Olympics Healthy Communities grant funding. This year's participants learned about Healthy Athletes screenings and how they can help other athletes in their communities access these important opportunities. Participants left the session as certified Healthy Athletes Screenings Health Heroes who can spread the word at home and help change the game for athlete health.
Sincere thanks also to the fantastic volunteer course facilitators who did an outstanding job helping the athletes build their confidence and abilities! Congratulations to this year's participants! (full list below)
Athlete Speakers Bureau 1
In the words of athletes:
"Special Olympics is somewhere I can feel accepted and not out of place. I love being part of a team, competing, and winning medals. It makes me feel proud of what I have accomplished." -Julia Wood, SOBC – Langley
"Special Olympics is fun, it is great exercise, and it is fun to be part of a team spirit. It makes me happy to learn with other people with intellectual disabilities." -Sarah Regehr, SOBC – Salmon Arm
"I like being involved in SO because it makes me feel included and respected." -Christian Burton, SOBC – Langley
"Special Olympics has made me a better person by helping me set goals and work to achieve them." -Simon Phipps, SOBC – Nanaimo
"I've been an athlete for over 20 years, and it feels great." -Amber Benedict, SOBC – Cowichan Valley
"Special Olympics has given me opportunities I would never have had and increased my confidence." -Robyn Rauh, SOBC – Vancouver
"Special Olympics accepts you no matter what and always encourages you." -Katelyn McPhedrian, SOBC – Richmond
"Special Olympics has given me friendship, confidence, and common interests. … I am accepted and respected, I am part of a team, and I am more fit and healthy. … I know that if you join Special Olympics you will love it. I sure do!" -Katie Marchbank, SOBC – Abbotsford
Athlete Speakers Bureau 2
Apologies to athletes Cory Melnychuk and Justin King who were not filmed this time around!
In the words of the athletes:
"Special Olympics encourages me to be healthy and fit and encourages me to develop my personal and athletic skills." -Shayne Blandin, SOBC – Oceanside
"I would like everyone to join Special Olympics. It's not about how you play; it's about how you feel when you play the game, having fun and making friends." -Tracy Martin, SOBC – Mission
"In Special Olympics I'm respected and I am part of a team." -Kim Davies, SOBC – Delta
2017 participants
Athlete Speakers Bureau 1

Name of Athlete

Local

Speech Coach

 

Austin Johnston

Abbotsford

Shelly Johnston

 

Katie Marchbank

Abbotsford

Cindy Suffel-Marchbank

 

Jonathan Lawson

Coquitlam

Christine Berezon

 

Julie Black

Cowichan Valley

Necole Young

 

Amber Benedict

Cowichan Valley

Jean Schofield

 

Mykaela Stewart

Fort St. John

Kathy Stamatelakis

 

Megan Gourley

Kamloops

Tamara Turner

 

Julia Wood

Langley

Liz Wood

 

Christian Burton

Langley

Jayne Burton

 

Simon Phipps

Nanaimo

Angela Behn

 

Stacey Magus

Nelson

Betty Burk

 

Geoffrey Trimble

Oceanside

Barb McLeod

 

Simone Myers

Port Alberni

Barb VanZoeren

 

Brock Terlesky

Quesnel

Rick Prosk

 

Kelsey Thomson

Richmond

Heather Jamieson

 

Katelyn McPhedrian

Richmond

Lisa Jamieson

 

Sarah Regehr

Salmon Arm

Stacey Brook

 

Jason Newport

Salt Spring Island

Jo Logan

 

Micheal Oswald

Sunshine Coast

Helen Halet

 

Robert Tarko

Trail

Jakki VanHemert

 

Robyn Rauh

Vancouver

Tess VanStraaten

 

Sheenagh Morrison

Victoria

Kyle Erikson

 

Lorraine Dick

Williams Lake

Susan Means

Facilitators: Joanne Fevens, Sarah Howe, Charlotte Taylor, Tess VanStraaten

 

 

 

 

Athlete Speaker's Bureau 2

Frances Collison

Creston

Paula Harper

 

Ariel Taylor

Coquitlam

Sarah Wasik

 

Kimberley Davies

Delta

Brea Maurice

 

Maria Stamatelakis

Fort St. John

Sam Taylor

 

Amanda Peebles

Mission

Ashmita King

 

Justin King

Mission

Linda Golightly

 

Tracy Martin

Mission

Penelope Dobson

 

Joanne Steel

Nanaimo

Sylvia Taylor

 

Nick Toner

Nelson

Andrew Duff

 

Shayne Blandin

Oceanside

Yvonne Newport

 

Cory Melnychuk

Quesnel

Wilf Smith

 

Alex Pang

Vancouver

Jessica Souza

 

Mathew Schmiing

Vancouver

Meghan Fleming

Facilitators: Andrea Boyes, Marilyn McLean, Sam Taylor

 

 

 

 

Governance

Mike Palliti

Abbotsford

 

 

Derek Santema

Abbotsford

 

 

Adam Advocaat

Coquitlam

 

 

David Johnston

Dawson Creek

 

 

Pierce Burns

North Shore

 

 

Kerri Lipsack

Oceanside

 

 

Stephanie Button

Oceanside

 

 

Priscilla Dickson

Oceanside

 

 

Barbie Conway

Prince George

 

 

Vincent Li

Richmond

 

 

Andrew Weale

Richmond

 

 

Graeme Johnston

Richmond

 

 

Debbie McNaughton

Salt Spring Island

 

 

Paula Prough

Trail

 

 

Ken McLean

Vancouver

 

 

Nellie-Jo Kurta

Vancouver

 

 

Tom Wilde

Vernon

 

Facilitator: Patty Wheeldon

 

 
 

 

Health Section

Joanna Morris

Kelowna

 

 

Paige Norton

Abbotsford

 

 

Erin Thom

Kimberley/Cranbrook

 

 

Jake Hooper

Comox Valley

 

 

Jennifer Ferrier

Victoria

 

 

Jesse Jensen

Kimberley/Cranbrook

 

 

Katie Little

Burnaby

 

 

Lauren Hogan

Coquitlam

 

 

Lindsey Aarstad

Coquitlam

 

 

Marinka Van Hage

Prince George

 

 

Mark Hamblett

Victoria

 

 

Matthew Williams

Langley

 

 

Nathan McClain

Arkansas

 

 

Camie Powell (staff)

Arkansas